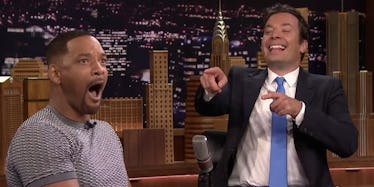 Will Smith Shares Hilarious Story About Jaden Tricking Him On 'Tonight Show'
YouTube
Well played, Jaden Smith, well played.
Will Smith dropped by "The Tonight Show Starring Jimmy Fallon" on Thursday to promote his new film, "Suicide Squad," which comes out August 5.
While there, he shared a hilarious story about his son, Jaden, pulling the wool over his eyes on a recent trip.
Apparently, Jaden just turned 18 on July 8. For his 18th birthday, Will Smith explained, Jaden asked his family to come to London to celebrate his birthday while he promoted his new show called "The Get Down."
Naturally, Will Smith can't contain his excitement about this vacation while telling the story; he's just happy Jaden wants some family time and he's happy to make a simple family vacation out of the London trip.
But Jaden had other ideas in mind.
For Jaden's birthday, Will Smith and fam went to see Calvin Harris before heading out for dinner, something Smith notes Jaden was "particularly excited" for.
Smith was not prepared for what happened next.
He told Jimmy,
We sit down at the restaurant and [Jaden] looks at the waiter and he says, 'I'll have a tequila.' But I say, 'Woah woah, man, hold up, what you doing?' And he says, 'The drinking age is 18 in England, Dad!
Will Smith, you just got Jaden'd. That's not a thing, but it should be. Hear the whole story in the video at the top.
In addition to promoting "Suicide Squad" and sharing his story of getting tricked by Jaden, Will Smith also made the most epic "Tonight Show" entrance of all time.
According to Daily Mail, Will Smith wanted to give viewers a different sort of entrance since they've been seeing him over and over on the talk show circuit as he promotes his new movie.
Well, he gave not one entrance, but four increasingly ridiculous entrances, the last and most epic of which involves a choir, a literal rolling out of the red carpet and a unicorn.
Check out Will Smith's amazing "Tonight Show" entrance in the clip below. You will NOT regret it.
Citations: 'I gotta give it to them!' Will Smith makes FOUR increasingly spectacular entrances as he entertains The Tonight Show audience (Daily Mail)