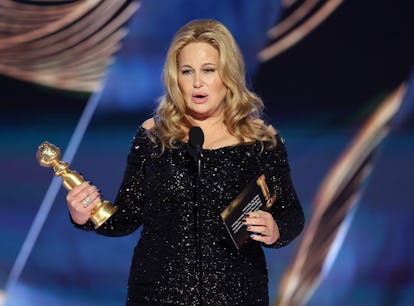 Jennifer Coolidge's Golden Globes Speech Was Tanya-Level Chaotic
Not even the gays can keep her down.
Rich Polk/NBC/NBCUniversal/Getty Images
After Jennifer Coolidge was announced the winner of the Best Supporting Actress in a Limited or Anthology Series or Television Film, everyone knew it was about to be the most epic speech of the night. And it was. Coolidge's chaotic acceptance speech was filled with gags, heartfelt tributes, and of course, plenty of bleeps.
Coolidge won the Globe for her performance as Tanya McQuoid in Season 2 of The White Lotus a few months after also taking home the Emmy for the same role. Coolidge referenced her Emmys speech getting cut short in her Golden Globes moment.
"The hook came out at the last thing I got an award at," Coolidge joked. "This giant hook — I thought it left when vaudeville ended — but this hook came out and took me off the stage at the Emmys. And I didn't get to say what I wanted to say."
Naturally, Coolidge started her speech with a hilarious physical gag, immediately putting her award on the floor: "I don't work out, ya know? I can't hold it that long."
Coolidge used the bulk of her speech to thank The White Lotus creator Mike White, but some of her remarks were bleeped from broadcast. "I had these giant ideas, and then you get older and your [bleep]. It's just gonna happen anyway," Coolidge said. It's unclear what was bleeped, but it seemed to be a joke about getting older. "And I just want to say, Mike White you have given me hope. You have given me a new beginning even if it is the end because you did kill me off. But it doesn't matter because even if this is the end, you have changed my life in a million different ways."
The actor concluded her speech with one more expletive, which was much easier to make out despite the bleep: "So anyway, I just want to say, Mike White, I f*cking love you." It sounded like there was a bleep as she closed with, "This is a really fun night. Thank you!" But it's not clear if she cussed, or if the person who pushed the bleep button was just at the ready.
Along with thanking White, Coolidge also thanked the other showrunners who gave her jobs throughout the years, bleep-free.
"There were like five people that kept me going with these little jobs, and Ryan Murphy you were one of them," Coolidge said. "It was you, Ryan, and who else was there? It was just you, Ryan. I didn't know anybody and it was just this thing that wasn't going anywhere. And then there were these people that would give you these cute little jobs. Michael Patrick King you kept me going for a long time. Reese, you got me, you know, Legally Blonde. And then there were like five different sequels of American Pie, I'd milk that to the bone. I'd still go back for six or seven, whatever they want."
Honestly, whatever gets Coolidge back on stage will be good for her fans — can't wait to see what she says (or bleeps) next.