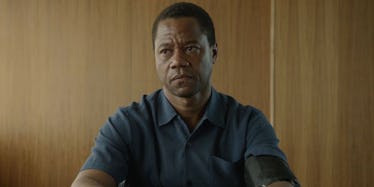 5 Reasons 'The People V. OJ Simpson' Will Be Your Next True-Crime Binge
20th Television
From "Serial" to "Making a Murderer," the true crime series trend continues to take audiences by storm.
FX's new limited series, "The People vs. O.J. Simpson: American Crime Story," (based on the novel "The Run of His Life: The People v. O.J. Simpson" by Jeffrey Toobin), is no exception.
If you haven't tuned in to the show that takes viewers inside the case that transfixed and divided a nation, it's time to start.
Like many Millennials, the specifics of the famous OJ Simpson trial evaded me at a young age. I was only 7 at the time, but I'm strangely able to recall an awareness of the major aspects of the case back then, including the white Bronco chase, the glove and that OJ was a football star.
But that's about it.
This series provides an entertaining opportunity to learn more about the particular details of the case, the key players and the broader racial context this was happening amidst in 1995.
Here are five reasons to tune in every Tuesday at 10 pm:
1.David Schwimmer as Robert Kardashian
Admittedly, I was skeptical about the choice to cast Schwimmer as the Kardashian family patriarch.
It's hard to picture him as anything but the paleontology-loving, whiny friend pining after Rachel. But Schwimmer nails the role of OJ's close friend and defense attorney, Robert Kardashian.
Schwimmer took this role very seriously, and did his research when it came to understanding the type of man Kardashian was.
In an interview with Indiewire, Schwimmer described Kardashian, and said:
He was an incredibly generous, compassionate, loyal, fun and spontaneous guy, but also a man of deep faith. That was the thing where I was suddenly like, 'Wait, what?' — to realize and to learn that he was a very religious man.
He continued:
He prayed every day, many times a day. He had a very personal and strong relationship with God. That suddenly informed everything to me about the character, and why he made the decisions he did.
In the third episode, there's a scene where Kardashian is recognized at a restaurant and given priority seating because of his newfound fame. In response to his children's excitement, he tells them:
This is not what's important. What's important is being a good person.
Schwimmer's portrayal gives Kardashian a complexity and depth that characterizes Robert Kardashian as being more than what he's now best known for: being the father of the Kardashian fame-seeking empire.
2. The rest of the star-studded cast.
Aside from Schwimmer, the cast is packed with big names delivering exceptional performances of key players in the trial.
Simpson's "dream team" of attorneys in the series includes John Travolta (Robert Shapiro), Nathan Lane (F. Lee Bailey), Evan Handler aka Harry Goldenblatt (Alan Dershowitz), and Courtney B. Vance (Johnnie Cochran).
Other notable names include "American Horror Story's" Sarah Paulson playing the all-business prosecutor Marcia Clark, Cuba Gooding, Jr. as OJ Simpson, Selma Blair as Kris Kardashian and Connie Britton playing Faye Resnick.
3. It explores the racial context of the case.
The series incorporates the broader racial and social climate in 1995. It examines the case within this context and how external events impacted the trial and ultimately, the not-guilty verdict.
At the time, the racial tensions were high. Following the Rodney King injustice in 1991, there was a lot of hostility toward the LAPD.
The alleged racism of lead detective in the case, Mark Furhman, combined with the history of black mistreatment by the LAPD played a prominent role in compiling OJ's successful defense.
OJ's legal team played to human emotion toward these prior injustices and incorporated the racial hostility of the time into arguably one of the most successful legal defenses of all time.
The series illustrates the divide between those who saw Simpson's acquittal as a powerful rebuke to America's racial crimes compared to those who saw a cold-blooded killer who played the race card to get away with a murder.
4. It examines the impact of celebrities on our criminal justice system.
It's hard to understand how there were so many missteps and oversights in this case.
Why was OJ allowed to turn himself in at his leisure rather than being immediately placed under arrest? Why wasn't OJ subjected to the level of police questioning usually reserved for prime suspects in a murder case? Why did the famous white Bronco chase last as bizarrely long as it did?
This series looks into why that happened. OJ's celebrity status largely influenced his case. From standard law enforcement protocol to the jury of public opinion, his fame and athletic achievements changed the way this case was handled and how he was perceived by the public.
5. Because Tuesday is a terrible night for television.
I can't remember the last time a decent show was on Tuesday nights. Thank you, TV gods! Finally, there is something to get us TV junkies through this eternally lackluster night of television.