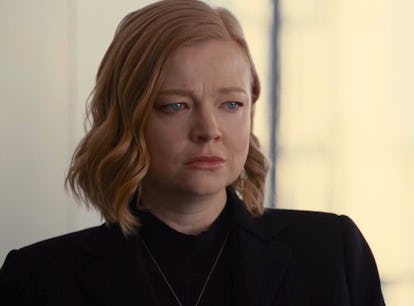 Sarah Snook Has "Very Clear Ideas" About What Would Happen In Succession Season 5
She was absolutely convinced Season 4 wasn't the end.
HBO
If you're still in denial that Succession is over, you're not alone. It turns out, a lot of the cast was fully convinced up until the final table read that Season 4 wouldn't be the end for the Roy family, and the biggest believer in a fifth season was Sarah Snook. Snook's co-star Kieran Culkin revealed this in a recent interview, disclosing that Snook was so sure that Season 5 would happen that she had thought up some "very clear ideas" on what would happen after that shocking finale. It's a tidbit that's bound to have Succession superfans wondering what Snook's vision for the Roys' future might have been.
Culkin got real about the back-and-forth over whether Season 4 would be the final season or not in the 2023 edition of Variety's "Actors on Actors" series. "Jesse Armstrong, our showrunner-writer, didn't know. He told me before the season started that he thinks this is the end, but he doesn't know," Culkin said.
Armstrong didn't give a firm answer on if the show was ending or not until the final table read, Culkin shared, which caused a few actors to convince themselves that Season 5 was a sure thing. "He kept us guessing the whole time. There were some of us that were so sure that there was not going to be another season. Sarah Snook, the entire time, until the very end was like, 'There's going to be a fifth season.' And had very clear ideas on what it was," Culkin said. "It was after the table read for the final episode, he told us."
So, that means Snook still has her dreams for a fifth season bouncing around in her head. Does she think Shiv will be able to use Tom's new position to rise to power herself? Is her relationship with Kendall ruined forever? And what's going to happen with her baby? Fans will just have to hope Snook will want to reveal her thoughts at some point.
And Snook wasn't the only one who had some big ideas for how the show could continue after Season 4. Culkin also revealed that Armstrong himself had a ton of pitches for what a fifth season might look like. Culkin recalled how after Armstrong filled him in on Season 4's events, the creator threw out some plans for a future season that, it turned out, would never happen.
"He explained the entire season to me," Culkin said. "And then when he got to the end, I said, 'Well, that seems like that's the end of the show.' And he goes, 'Yeah, it does, doesn't it? Although…' And then he just started talking about all these different ideas off the top of his head. He was like, 'This is just off the top of my head.' And then he just pitched an amazing fifth season and then another and another."
It sounds like there was definitely enough creative energy to keep Succession going, but ultimately, Armstrong decided the best choice for the series was to bring it to an end. We'll just have to use our imaginations to think up what Tom and Shiv's marriage looks like now.