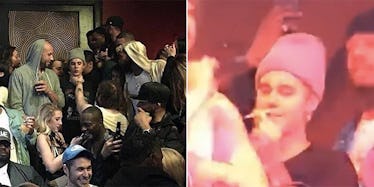 You Won't Believe Why Post Malone Choked Out Justin Bieber In The Club
Twitter
Rapper Post Malone owes a lot to Justin Bieber for inviting him on tour with him, but under no circumstance does that mean he should be the pop star's ash tray.
According to Daily Mail, Bieber and Malone hit the club after their show when Post began to perform his hit, "White Iverson."
Justin was seen rolling his eyes, then ashing a blunt on his tour mate's shirt, which definitely burned a hole in it. Good thing that's pretty much Post Malone's swag already!
Photos and videos have emerged of Bieber doing the unthinkable to his "friend" while partying at a Houston nightclub.
Just look at Justin's smug-ass disrespect!
Justin Bieber uses Post Malone's arm as an ashtray in the club pic.twitter.com/Fhv0OSxdvN — HIP HOP FACTS (@DailyRapFacts) April 13, 2016
Post Malone could've done one of two things: 1) Play it cool and realize this kid is just a dickhead, or 2) keep it real with himself and everyone around him by choking Bieber's bitch ass out.
Needless to say, Post chose the latter.
Post Malone put Justin Bieber in a chokehold. It was all good just a week ago... pic.twitter.com/I3iGGOFTWR — REVOLT TV (@RevoltTV) April 13, 2016
The fallout from this has yet to be seen; however, we do see Odell Beckham in the cut witnessing it all go down above.
The Internet has obviously been crazy since the photos were released today, and there's already all the memes in the world, but this one below is the only one you need to see.
i was at the party where post malone choked out justin bieber, here's a pic pic.twitter.com/rQtyMpDXmJ — Thomas Nassiff (@ThomasNassiff) April 13, 2016
It seemed, up to this point, like the two were good homies, but is this forgivable on either end? Or, will this spark the newest Twitter beef?
Ask yourself this question: What would you do if Justin Bieber ashed his blunt on you?