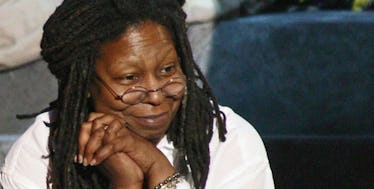 This Blog Mixed Up Whoopi Goldberg And Oprah At The Oscars And Everyone Lost It
Look, we get it, the Oscars is a confusing time.
The red carpet is hectic, the stars are flying by and reporters have little time to analyze their looks.
But, what is unforgivable is getting Whoopi Goldberg, an Oscar-winning actress who has been around for decades, mixed up with the queen of TV, Oprah Winfrey.
After the beauty blog Total Beauty tweeted this disaster of a mix-up, Twitter went bananas. Here are a few of the choice reactions from social media:
Sure, it was a bad mistake, but believe it or not, Whoopi and Oprah weren't the only two stars getting mixed up on the red carpet. E! News spent a good amount of time analyzing the outfit of who they thought was Tilda Swinton, but was in fact famed costume designer Sandy Powell (who was also serving up some SERIOUS style while paying homage to David Bowie).
Here's a tweet summing up this entire mess: