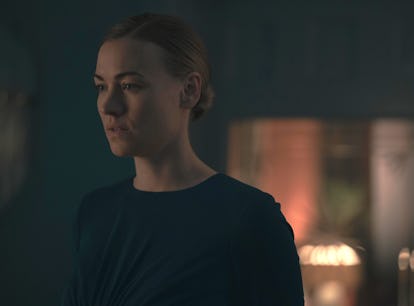 5 Theories About The Fate Of Baby Noah On The Handmaid's Tale
Are June and Luke about to take on another kid?
Sophie Giraud/Hulu
The Handmaid's Tale began as a horror story about the loss of reproductive freedom in a theocratic society. However, since Season 2, it's been the story of Serena Joy Waterford and June Osborne, two women on either side of an ideological divide. It was also physical, as Serena Joy believed herself infertile, while June could have children. But since Serena got pregnant, their relationship has been more complicated. So, what will happen to Baby Noah now that he's out in the dangerous world of The Handmaid's Tale?
Warning: Spoilers for The Handmaid's Tale Season 5, Episode 7 follow. The penultimate episode of Season 5 was a two-woman tour-de-force, as Serena Joy gave birth in a barn in the woods of No man's Land while June delivered her baby. The show contrasted it to life in Gilead, as June relived a flashback to her first birthing ceremony, where the wife used the handmaid's actual struggle to pretend to be in labor. Unfortunately, there were complications — the wife was taken from the room, showing no signs of wanting to help the person who was giving birth to the child she was claiming. Although the bay survived, the handmaid did not.
At first, Serena pushed June away, and June, frutrated, left her in the barn to fend for herself. But then, determined to be better than what she'd witnessed in the path, June returned to Serena and helped her give birth to a healthy baby, Noah.
Serena insisted June take Noah and leave Serena to die. But June wasn't having that; she convinced Serena to come with her to Canada, where she got her the medical care she needed at a hospital. But then, immigration showed up. Serena was arrested as an illegal border crosser and was forced to let her child go to Child Protective Services. The irony: The person who called immigration on Serena was Luke.
So, what now? Let's run down the theories regarding Baby Noah's fate.
The Handmaid's Tale Season 5 continues Wednesdays on Hulu.