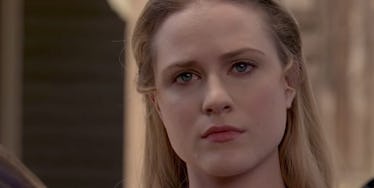 This One Moment From The 'Westworld' Trailer Has Everyone So Excited For Dolores
YouTube
Comic-Con is the gift that keeps on giving.
The San Diego event has resulted in a bevy of good news for fans: a sneak peek at the new Justice League trailer, a panel dedicated to Stranger Things, and a first look at the new season of Westworld. 
Though the HBO hit isn't set to return until 2018, the just-under-two-minute clip totally left fans captivated, and for one main reason: Dolores, Dolores, Dolores.
Though it isn't entirely clear how the plot will unfold in season two, fans are pumped to see Dolores (Evan Rachel Wood) take action in the upcoming episodes.
Though only in the clip for a few short seconds, Dolores clearly means business.
As Sammy Davis Jr.'s "I Gotta Be Me" plays in the background of the Westworld trailer, Wood is skillfully perched on top of a horse, gun at hand, looking severely fierce.
Channeling some serious Wonder Woman vibes, Dolores looks to be another female character who can hold her own with the boys.
Twitter exploded with excitement for the new season, thanks largely to Wood.
During the show's July 22 panel,Wood teared up talking about her role, according to Vulture. The actress said,
I knew that I wasn't going to stay this kind of damsel in distress, that I would become strong, but my little brain didn't go much further than that, or didn't fully grasp how deep it was going to go, and just how profound it was going to be, and how she finds her strength. I had no idea.
Although the teaser makes it hard to decipher what exactly is going to happen next, Westworld's actresses — and fans — are clearly captivated by the strength of the show's female characters.
Thandie Newton, who plays Maeve, also feels that Westworld gave her the same opportunity to break free of stereotypes, according to Vulture. She said,
For the first time in my professional life, and in my personal life, too, I have complete trust and faith in what these people are writing, and in where they're taking this show.
Here's to more badass female characters on TV and the big screen.