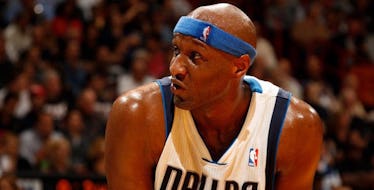 Why All Of America Wept With Khloé When Lamar Went Into A Coma
Facebook
Amy Schumer was half right.
Khloé was ours, but really, she hasn't gone anywhere.
As the black sheep of the Kardashian-Jenner clan, Khloé has long been a family favorite.
She keeps Kim in check when she gets too self-absorbed; she mediates when Kourtney and Scott have another brick-wall fight.
She even sticks up for Kylie, saying things like, "I'd rather be with a man too," when the 18-year-old brings her boyfriend on vacation.
So when Khloé finally fell in love during season 4 of "Keeping Up With The Kardashians," America fell in love alongside her.
Does that sound crazy?
Maybe.
But by now, we do everything with the Kardashians.
From getting ready in the morning with K-sponsored makeup and hair accessories, to following each sister on separate apps and Instagrams when we have down time, we're always by their sides.
Their reality show aired in 2007, and eight years later -- in season 10 -- it's safe to say we've gotten to know the family pretty well.
Not long ago, I realized during nearly every episode of "Keeping Up With The Kardashians" I watched, I found myself tearing up at some point throughout the program.
OK, so am I the crazy one?
Hear me out.
Each episode of the reality show is an hour long (including commercials, of course). And if you think about it, an hour spent doing any one thing is enough time to lose yourself in it.
I'd go home and crack open my laptop after a hard day at work (where I tend to ignore my personal life), and completely immerse myself in the sisters' lives.
They were funny, refreshing, entertaining and, obviously, not painful to look at.
And — somewhat scripted or not — they were always real.
When the girls talked about missing their deceased father, I cried with them.
When they had sibling fights, made up and said how much they loved one another, I couldn't help but shed a tear.
And when Khloé and Lamar ended their marriage after four years, I sobbed along with the ever-tough Khloé.
You see, I cried during this hour-long slot of my life so I didn't have to leave them and cry elsewhere.
When I cried for their dad, I didn't have to cry about mine. When they embraced their siblings, I didn't have to go out and tell my sister I loved her. When Khloé experienced a breakup, I could cry over hers without turning to my phone to see if my ex posted a Snapchat.
So when I learned Lamar Odom was in the hospital, unresponsive and in a coma from an apparent overdose, I felt weirdly, completely devastated.
I had to legitimately keep myself from crying, but this time, I couldn't use the Kardashians to refocus my feelings.
I had to turn to my work at my office job.
I had to get away from the Kardashians.
We witnessed Khloé and Lamar meet, fall in love and even marry on television. And then we saw the breakup, and every girl in America was Khloé, grieving a love she thought would last forever.
As much as America loves to tear down the mogul sisters, if we truly hated them, we wouldn't keep coming back for more.
We wouldn't allow them to stamp their names on everything under the sun and, better yet, sell it to us.
"KUWTK" wouldn't still have over 2 million viewers in its 10th season, and over 2 million people wouldn't have paid $3 each for access to the sisters' apps.
That's what we love so much about celebrities. They provide a glimpse into this unattainable fantasy life, so we can ultimately lose ourselves in just that.
And the Kardashians aren't just celebrities, they're trendsetters. They're even currently leading the movement on trans acceptance. They're pop culture icons.
Khloé is now faced with the most horrifying decision she may ever have to face.
Since she and Lamar are still legally married, it's up to Khloé to make all medical decisions concerning her estranged husband.
Deciding to take a loved one off ventilators and feeding tubes can feel like a betrayal.
What if you had just held on a little bit longer? What if a miracle would have happened?
But in cases like these, you must think of the person affected.
Would he or she have wanted to live this way?
We're all aware of Lamar's recent struggles with drug use. And as Khloé said herself, somewhat eerily, over a year ago, "addiction is a disease."
The media should not downplay this matter or blame Lamar for the situation he is in.
Rather, we should remember, some people truly are only at peace once they enter death.
And, as we've been by the family's side through everything else, America is praying for Lamar's recovery.
But we're also praying for Khloé, the Kardashian who's always made us feel like, really, she's just like us.