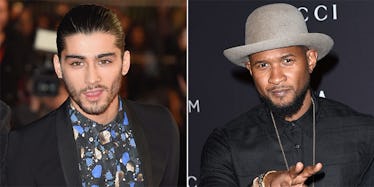 11 Absurdly Vulgar Lines In Zayn And Usher's 'Back To Sleep' Remix
Getty Images
A new remix of Chris Brown's "Back To Sleep" features Usher, Zayn and some very explicit lyrics regarding the precise texture of a woman's reproductive organs.
Listeners interested in a late-night booty call from any of these three men will get sweaty listening to the track, but there are a few lines serving to distract even the freakiest among us from getting sufficiently horny.
1. "Wake up. Wake up. Wake up. Wake up."
The song begins with someone, presumably Usher, just whispering "wake up" over and over.
Despite it being an obvious homage to Marvin Gaye's "Sexual Healing," this call is a stressful way to wake up, regardless of who you are.
Most of us do not live with Usher, so the idea of his hot breath on the sides of our faces first thing in the morning is a startling, generally unwelcome reality.
2. "Get up. Get up. Get up. Get up."
What? No.
3. "You love how I eat on that pussy / Just might, too, put a tat on that pussy / that says 'Usher, Usher.'"
HOLD THE F*CK UP. When I agreed to let Usher go down on me, I did not expect him to:
A) Sing about it while he did it. Not necessary. B) TATTOO MY VAGINA SKIN.
My vagina is a sensitive area. I do not want any tattoos on my vagina, much less one reading "Usher" twice.
I don't know what kind of space Usher thinks I have down there for that kind of body art, but vaginas are not sprawling landscapes primed for wordy, proprietary tattoos.
4. "When I make you cum / I make it gushy."
Gushy? Barf, barf, triple barf.
5. "Girl, your pussy taste like pineapples."
Well, it should taste like a human vagina. So, excuse me, but I need a ride to the urgent care facility.
6. "Girl, when I hit you deep / It feel like you gon' pee."
This is not something I look for in a sexual experience, TBH. No judgements.
7. "F*ck you back to sleep, girl."
OK, but then stop f*cking me because that's where the issue of consent gets really dicey. Let's actually make an awake-sex-only rule before we even get as far as the pussy tattoos.
8. "I just wanna tell you I'm sorry / for f*cking 'round with Keisha and Michaela."
Chris Brown is on the track, now, using the sexy song as a platform to apologize for giving in to the sensual temptation of Keisha and Michaela. I'm honestly not mad. We never talked about exclusivity. I'll admit, I don't love hearing about it during this song, presumably written to put me in the mood.
9. "Baby just lay there naked, waiting for me."
OK, Zayn, but for how long? I have a job and, like, responsibilities. I have friends who will be looking for me. I feel like you're honestly not listening to anything I'm saying. You're texting while I'm talking.
10. "Somebody's splittin' your knees / Don't worry, that's me."
Um, I assume you mean splitting my knees apart from one another in a sexual way, but please clarify. The idea of having my kneecaps busted with some kind of hammer or hatchet is really stressful, and it's drying up my lady parts faster than an episode of "The Steve Harvey Show."
11. "I ain't sorry that I woke ya."
Well, just, in the future, I do have to be up early, and I need you to respect my schedu -- why are you texting again?
Truly, the three of you need to leave. It's time to call it a night. No, please leave my granola bars. Those are my snacks for the week. Just go.
Ah, sex with famous people. It's hardly worth the hassle.