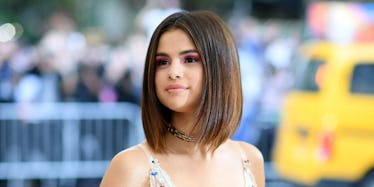 The VMAs Announced Its Nominees And Selena Gomez's Fans Are So, So Pissed
Getty Images
The 2017 MTV Video Music Award nominations are finally here, and it's not good news for Selena Gomez fans. Since she isn't up for any awards despite her new singles "Bad Liar" and "Fetish" making waves right now, music fans are alleging a Selena Gomez VMA snub.
Well, there's actually a pretty logical reason why Selena Gomez isn't up for any awards at this year's ceremony: she simply didn't release any new music or videos within the eligibility period. Gomez has yet to release her hotly anticipated "Fetish" video, and her cinematic "Bad Liar" video unfortunately missed the March deadline for eligibility this year.
Gomez actually did nab two nominations: one in the Best Dance category for her collaboration with Kygo "It Ain't Me" and another in Best Collaboration for "We Don't Talk Anymore" with Charlie Puth, so she isn't completely shut out from the awards. But that clearly wasn't enough for Selenators confused about the eligibility period, who couldn't believe "Bad Liar" was being ignored by the VMAs.
If "Bad Liar" had been released a couple months earlier, it likely would have racked up a fair share of nominations at this year's VMAs. The single was dubbed Gomez's most acclaimed release yet by Billboard, and the music video wowed fans by featuring Gomez playing four different characters and ending on a surprise LGBT twist. It currently has over 115 million views on Youtube in just the month and a half it's been online.
Fans will just have to wait until next year to see if "Bad Liar" manages to snag some nominations at the 2018 awards. Meanwhile, Selenators can still pull for Gomez in the Best Collaboration and Best Dance categories.
Gomez's last album Revival was up for nomination at last year's awards, where the track "Kill Em With Kindness" scored a Song of the Summer nom.
Check out the full list of 2017 Video Music Award nominees here. The ceremony will air August 27 at 8 p.m. ET on MTV.