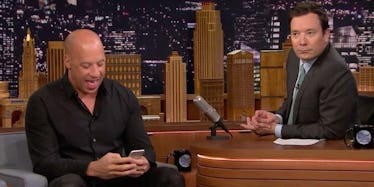 Vin Diesel's Daughter Sent Him The Cutest Text While He Was Filming (Video)
While on set for his new film, "The Last Witch Hunter," Vin Diesel got some special words of encouragement from his 7-year-old daughter, Hania.
On "The Tonight Show Starring Jimmy Fallon," Diesel said Hania texted him an adorable message to let him know how much she loves him.
The text read,
Hi Daddy. I love you so much. I am so proud of you. I miss you so much. I believe in you that you will make an awesome movie. I love you so much. I miss you so much.
AW, VIN. That is the most precious thing I've ever heard.
You have to listen to him read it, too. That's the best part. You also get to see the sweetest photo of the new addition to Vin's family: baby Pauline.
Check out the video above to get this daily dose of cuteness.
Citations: Vin Diesel Reads the Sweetest Text From His 7-Year-Old Daughter on The Tonight Show (POPSUGAR)