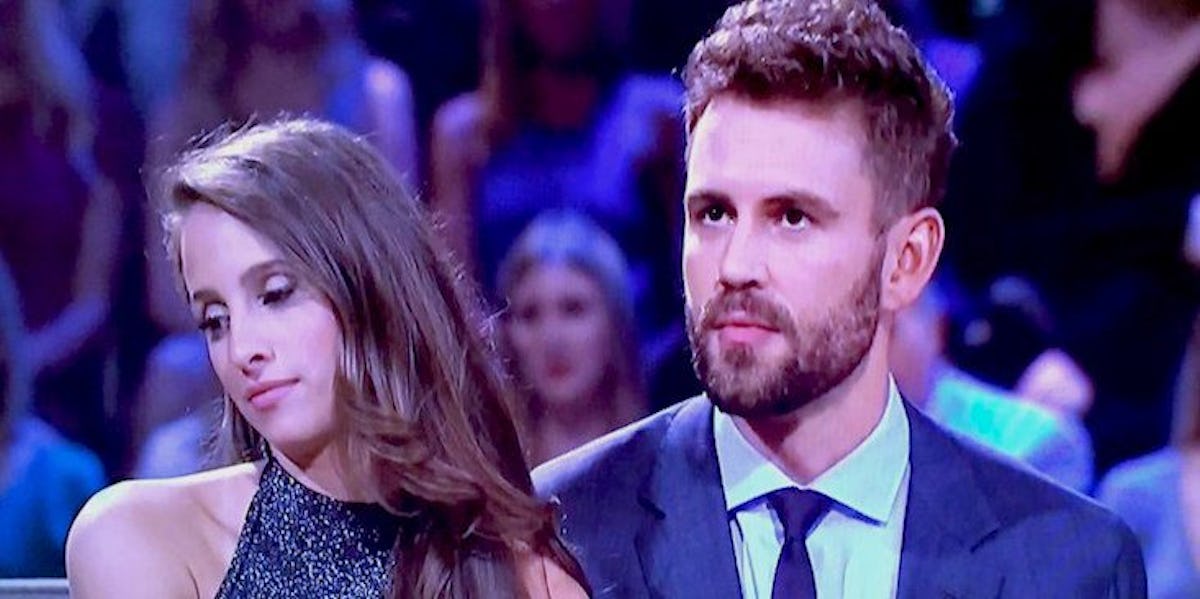 Vanessa Opens Up On Breakup From 'Bachelor' Nick Viall: "I Hope He Finds His Person"
ABC
Pretty much immediately after one Bachelor Nation love story between Rachel Lindsay and Bryan Abasolo began, another one ended last week. After five months of engagement following the most recent season of The Bachelor, Vanessa Grimaldi and Nick Viall called it quits at the end of August, and now Vanessa is spilling all the deets on why the breakup happened. In a new interview with People, Vanessa speaks out about her breakup from Bachelor Nick Viall for the first time since it happened, saying that they were just too different as people to really work out as a couple.
Despite sparks flying between Nick and Vanessa throughout his season of The Bachelor, Grimaldi said they just couldn't make their relationship last in the long run due to personal differences. She also shut down rumors that the split was caused by distance or her move from Canada to L.A. during Viall's stint on Dancing with the Stars immediately after The Bachelor ended. According to Grimaldi, she and Viall along with their families had all agreed that her move to L.A. was the best decision, and the move had nothing to do with the breakup.
In the end, as much as we loved each other and tried to make it work, we just realized we were different people fighting to keep a relationship when ultimately we just weren't the best fit for each other. It wasn't the distance that was ever an issue. Both Nick and I decided together, with our families' support, that I would put my teaching career on hold and uproot my life to Los Angeles to support him on Dancing with the Stars and build a life together.
And it sounds like it was a very amicable breakup. Grimaldi went on to say she fell in love with Viall very deeply, and felt "shattered" when they broke up, but is optimistic about the future. She says she hopes Viall can find the right partner for him in the future.
When you fall in love with someone with all that you have, it's hard to let go. Every part of you gets shattered. I'm trying to pick up the pieces. … I hope he finds his person and his happily ever after that we unfortunately couldn't find together.
Hopefully they can both find their people moving forward... maybe not on reality TV this time.