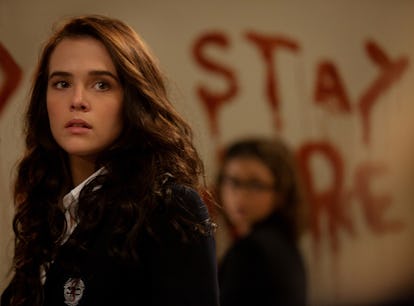 13 Vampire Movies To Watch On Netflix This Halloween
These movies don't ~suck~.
The Weinstein Company
The temperatures are dropping and the smell of pumpkin spice is in the air, which can only mean one thing: Spooky season is upon us. That means it's time to embrace the chilly weather, throw on a sweater or two, and watch some scary movies. Netflix has got you covered with a slew of vampire movies that are perfect for Halloween.
There are all kinds of scary movies, from slasher flicks to alien invasion adventures. But the vampire movie has remained a classic for decades for a reason. Ever since Nosferatu graced some of the first movie screens a century ago, audiences have been obsessed with watching stories about the nocturnal bloodsuckers. But while that original vampire movie was heavy on the scary vibes, today's vampire movies have branched out beyond the traditional Dracula-inspired story formula, with some of the picks on this list leaning way more into humor than horror.
Whether you're looking to get scared or have some laughs, these vampire movies on Netflix will put you in the right spooky season mood. So grab a cozy blanket and an even cozier drink, dim the lights, and settle in for a blood-curdling (or belly laugh-inducing) marathon of the best vampire movies on Netflix.
All these vampire movies and more are streaming on Netflix.