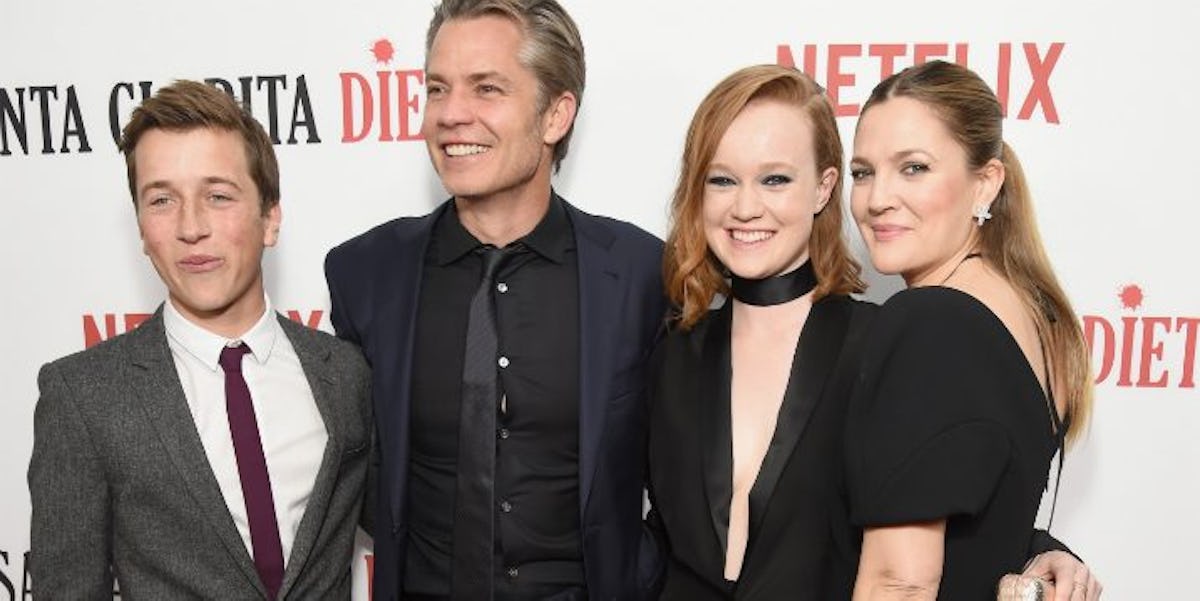 Here's Why You'll Upgrade Your Rom-Coms To Zom-Coms This Valentine's Day
Getty Images
I think we can all agree no matter what your relationship status is, Valentine's Day is the worst.
If you're single, it sucks because you're now more aware of just how single you are.
If you just started seeing someone, now it's awkward. Even if you're happily in a relationship (yay you!), you still feel the pressure to go out on the Hallmark holiday.
No matter what your status is this Valentine's Day, Netflix has a gift for you: "Santa Clarita Diet," which I learned last night on the show's red carpet is not an actual diet like the South Beach diet.
As a fan of diet trends, I was a little disappointed when I found out the "Santa Clarita Diet" was not a new diet Drew Barrymore was on, but rather a new show she was in. (Seriously, Drew, what is your secret? You never age!)
It turns out "Santa Clarita Diet" is a new zom-com (zombie rom-com) series starring Drew Barrymore and Timothy Olyphant.
I got an exclusive peak at the first two episodes, and I was hooked.
Each episode is only 30 minutes long, which is great if you have self diagnosed ADHD like me, and has a fun "Dexter"/"Weeds"/"The Walking Dead" vibe.
Also, the cast is fantastic. Drew Barrymore is delightful as always (we didn't get to talk to her, but she walked by us and smelled great).
Timothy Olyphant (whose last name is hard to pronounce) plays her sweet and loving husband, and the two are dynamic together.
And after two episodes, I wanted more! I had so many questions, like how does Drew become a zombie?
Can I become a zombie?
Who dies next?!
Good news, the show drops on Netflix on Friday. Look at that! Now, you already have plans this weekend: to watch all 10 episodes of this new show, you social butterfly you!
So while you wait for those episodes to drop, here's what I learned on the red carpet of "Santa Clarita Diet:"
Celebrities are not a fan of the question, "if you were a zombie and you had to eat anyone in the world who would you eat and why?"
They all found the question too sexual and "weird," when I found it quite simple, as I explained to Natalie Morales (the actor, not the host of the "Today" show), who told me her diet secret is "pizza," that she should eat someone who eats a lot of pizza as I imagine it would be like a Turducken!
She was not amused.
Cara Santana (fiancée of Jesse Metcalfe AKA John Tucker who, according to that movie, "must die" apparently) wasted no time telling me she would eat her fiancé because, "he's delicious."
When I asked her what she thinks he would taste like, she said, "burgers and milkshakes." It's like we get it Cara -- you're engaged.
I also tried to make zombie-ing the new ghosting on the carpet. I told the "Santa Clarita Diet" stars zombie-ing is when you're in a relationship and you die inside, but you still go through the motions.
Liv Hewson, who plays Drew Barrymore's daughter on the show, told me that was, "depressing." But I'm still trying to make it happen.
OK, so the cast of "Santa Clarita Diet" doesn't want to eat each other and doesn't believe in zombie-ing, but they're great in this show.
I honestly predict Santa Clarita diet will be the new show you binge on. Ha -- binge, diet -- it's like high school all over again! And regardless of your relationship status, you're gonna want to upgrade your rom-coms to zom-coms this Valentine's Day.
Check out "Santa Clarita Diet" on Netflix this Friday, February 3, and check out The Elite Daily Show on the red carpet of "Santa Clarita Diet" on go90 soon!
And if you're still craving even more zom-coms, check out "Burying The Ex," "Zombeavers" and "Night of the Living Deb" on Netflix. Or track down "Shaun of the Dead," "My Boyfriend's Back," "Zombieland" and "Life After Beth."
Happy Valentine's Day, you zombie you.