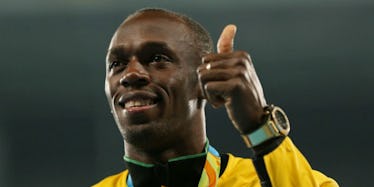 Usain Bolt Is Down To Fox Trot On 'Dancing With The Stars'
REX/Shutterstock
Usain Bolt, the fastest man alive, is looking to go from the track to the ballroom.
The 9-time Olympic gold medallist said that he would totally be down to compete on "Dancing with the Stars."
He told People,
I would definitely do it. I think I can dance.
I mean, check out these sick moves!
Bolt only stopped to check his cell phone once while dancing.
He's already more qualified than me, as I am on my phone the entire night because strangers frighten me and I cannot figure out a beat to save my life.
Bolt said,
I've talked to a few people who said if you want to get on the show then we can get you on.
Like, of course they can.  Who would turn down Bolt? Certainly not one of his many conquests.
The sprinter plans on retiring from sports after next year, so maybe this is his retirement plan.
Most people when they retire just move to a smaller house in a location they love, not compete on reality TV. But to each their own.
Obviously "Dancing with the Stars" would be missing out if they don't add the Olympian to their next season. These moves... I can hardly handle them.
Bolt currently holds the record for both the 100 meters and 200 meters, as well as the record as part of the 4 x 100 meter relay.
He was also the first to win consecutive Olympic 100 meters and 200 meters titles. His nickname is, fittingly, "Lighting Bolt."
While he is often considered to be the greatest sprinter of all time, we wonder...
Will he become the greatest Olympian fox trotter on "Dancing with the Stars" of all time, or will that title forever belong to Ryan Lochte?
We'll have to wait until next season to find out.
Citations: 0 SHARESSharing Options SUBSCRIBE NOW BY ROSE MINUTAGLIO @RoseMinutaglio 09/23/2016 AT 05:00 PM EDT Forget track and field – Olympian Usain Bolt is all about dancing now! The nine-time Olympic gold medalist says he would love to be a contestant on hit TV show Dancing with the Stars in the future. "I would definitely do it," Bolt, 30, tells PEOPLE. "I think I can dance." And Bolt isn't wrong – the sprinter has definitely got some moves! After a press conference at the Rio Games in August, the track and field legend joined a group of Brazilian samba dancers for a performance – rolling his hips and throwing his hands in the air. "I love dancing and music," he says. And now that Bolt has officially announced his plans to retire from athletics after next year, it seems he might actually have time to appear on the show, "I've talked to a few people who said if you want to get on the show then we can get you on," he says. No doubt about it, the fastest man in the world has serious potential to win if DWTS brings him on next season. SPONSORED STORIES An expert Q&A on plaque psoriasis HEALTHGRADES An expert Q&A on plaque psoriasis Celebs Who Had Babies When They Were Just Kids Themselves INSTYLEBUZZ Celebs Who Had Babies When They Were Just Kids Themselves Tom Brady And Gisele's Home Is Beyond Stunning LONNY MAGAZINE Tom Brady And Gisele's Home Is Beyond Stunning Celebrity Engagement Rings BRILLIANT EARTH Celebrity Engagement Rings Trapped in a Barn His Entire Life Until Now THE WEATHER CHANNEL Trapped in a Barn His Entire Life Until Now Max Baer Jr. Kept This Hidden Throughout The Filming Of 'Beverly Hillbillies' SPORTINGZ Max Baer Jr. Kept This Hidden Throughout The Filming Of 'Beverly… Recommended by THE LATEST FROM EW: Watch Amy Schumer Play Mr. Burns' Mother on The Simpsons FROM EW: Watch Amy Schumer Play Mr. Burns' Mother on The Simpsons Gwen Stefani on Adam Levine's New Addition: 'I Can't Wait to Hold' His Daughter Dusty Rose Gwen Stefani on Adam Levine's New Addition: 'I Can't Wait to Hold' His Daughter Dusty Rose Vegas Baby! The Backstreet Boys Are Officially Hitting the Strip Vegas Baby! The Backstreet Boys Are Officially Hitting the Strip Demi Lovato on Her Unbreakable Bond with the Jonas Brothers: 'It's Great to Have Friends Who Are Supportive' Demi Lovato on Her Unbreakable Bond with the Jonas Brothers: 'It's Great to Have Friends Who Are Supportive' blog comments powered by Disqus Adriana Lima: 'I Feel More Beautiful Than Ever' at 35 Adriana Lima: 'I Feel More Beautiful Than Ever' at 35 Angelina Jolie and Brad Pitt Split: A Look Back at Their TravelsAngelina Jolie and Brad Pitt Split: A Look Back at Their TravelsTravel + Leisure Recommended by WATCH AND SHOP: Upgrade Your Flats with a Chic Leopard-Print Pair WATCH AND SHOP: Upgrade Your Flats with a Chic Leopard-Print Pair The Best SUV Crossovers of 2016 SPONSORED BY YAHOO SEARCH The Best SUV Crossovers of 2016 The Most Awkward (and Most Epic) Celebrity Christmas Cards SPONSORED BY PUREWOW The Most Awkward (and Most Epic) Celebrity Christmas Cards Recommended by FROM OUR PARTNERS NICKISWIFT.COM The Real Reason Angelina and Brad Are Getting a Divorce AOL.COM Princess Diana's Niece Looks Just Like Her HOLLYWOODLIFE.COM Brad Pitt's Airplane Fight Caught on Video HOLLYWOODLIFE.COM Brad Believe's Angelina Fell Out of Love With Him a Year Ago NICKISWIFT.COM Sketchy Things About Brad Pitt That Everyone Just Ignores LOOPER.COM The Double Life of Todd Chrisley Joe & Demi, Plus Brooklyn Beckham, Kristen Stewart, Amal Clooney & Much More! Joe & Demi, Plus Brooklyn Beckham, Kristen Stewart, Amal Clooney & Much More! 8 Times Hilaria Baldwin Proudly Posted Her Post-Baby Body on Instagram 8 Times Hilaria Baldwin Proudly Posted Her Post-Baby Body on Instagram The Jolie-Pitt Family Album: Their Sweetest Outings Together The Jolie-Pitt Family Album: Their Sweetest Outings Together Want to Spot a Celebrity at Dinner? Here's Where You Should Make a Reservation Want to Spot a Celebrity at Dinner? Here's Where You Should Make a Reservation Inside Angelina Jolie's Heartbreaking Decision Inside Angelina Jolie's Heartbreaking Decision Ariel Winter Shares Butt Contouring Photo on Instagram Ariel Winter Shares Butt Contouring Photo on Instagram All the New Halloween Candies You Need to Know About This Season All the New Halloween Candies You Need to Know About This Season Family Source Defends Brad Pitt: 'He Is One of the Best Dads I Have Ever Known' Family Source Defends Brad Pitt: 'He Is One of the Best Dads I Have Ever Known' Sign up for our newsletter and other special offers enter email address go (People)