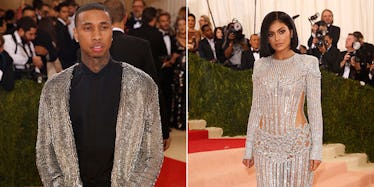 Here's What Tyga Had To Say About Kylie Jenner's Age And Their Breakup
REUTERS
When news first broke Kylie Jenner and Tyga had broken up, there was really only one question you'd figure was on most people's minds. When a reporter asked him that question, he surprisingly stuck around to give an answer.
He stopped, he pondered, he thought about it some more and gave the look of a person trying desperately to give an honest but careful answer.
So, did age difference really play a factor in the breakup with Kylie? Tyga's response indicated it did not.
The rapper told TMZ,
We're both just focused on our lives, our individual lives right now. Sometimes things don't work out but, you know, I love her.
Tyga and Kylie reportedly split up before last week's Met Gala, where they made their way across the red carpet separately. TMZ first reported the news, with sources telling TMZ Kylie was angry Tyga had even showed up at the Met Gala after only getting an invitation because of her.
Tyga however insisted to TMZ he's still got love for his now ex-girlfriend. The rapper also went on to give a candid opinion on Rob Kardashian and Blac Chyna's relationship, but he refused to respond when asked if Rob would be a good stepfather.
Citations: TYGA SHOCKINGLY CANDID ABOUT KYLIE BREAKUP (TMZ), KYLIE AND TYGA SPLIT ... We're Done For Real (TMZ)