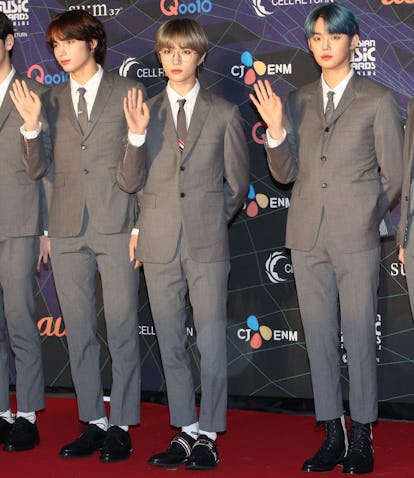 Get Hype, MOAs! TXT Is Dropping A New Album That Sounds Absolutely Epic
There's no escaping the excitement.
Jean Chung/Getty Images Entertainment/Getty Images
TXT is getting ready to make another comeback this summer. Just two months after they dropped their second studio album, The Chaos Chapter: Freeze, on May 31, Big Hit announced the group will return with a repackaged version of their record featuring brand-new songs. Since it will be here in no time, here are all the details surrounding TXT's Chaos Chapter: Fight Or Escape you should know.
Fans had a feeling something big was coming when the Korean outlet SPO TV News reported on July 14 TXT is preparing to make a comeback this August. Shortly after, Big Hit told TopStarNews, "Nothing has been decided yet. We will send out an official press release once the comeback is confirmed." The agency usually says this whenever news gets leaked prematurely, so MOAs took their statement as confirmation they would be getting new music soon.
Now, with the news of The Chaos Chapter: Fight Or Escape releasing in just a few weeks, MOAs are happy the rumors turned out to be true.
Big Hit shared a few details about the album over on Weverse, so if you're planning on purchasing it, check them out below.
When is TXT's The Chaos Chapter: Fight Or Escape coming out?
TXT's new repackaged album will drop on Tuesday, Aug. 17. The day Big Hit announced the record on July 18, the agency shared a 25-second teaser that unveiled TXT's new logo for this upcoming era. The video showed a blue-colored "X" with a heart in the middle that turned pink.
On July 19, Big Hit also dropped a countdown video that showed a phone with "D-28" on the screen.
What is the tracklist for TXT's The Chaos Chapter: Fight Or Escape?
Big Hit hasn't released the tracklist for the album yet, but it will reportedly have new songs that fans haven't heard yet. The agency promised more information about The Chaos Chapter: Fight Or Escape is coming soon. "We will provide further details about the new release in a separate notice on TXT Weverse," they said.
What will TXT's The Chaos Chapter: Fight Or Escape come with?
The album will have two versions that fans can purchase: FIGHT or ESCAPE. Each will come with its own goodies, including a CD, photobook, photocard, OS photo card, postcard, sticker pack, lyric book, behind poster, poster, AR card, mini cut-out board, and instant photo. See more details below.
How can I pre-order TXT's The Chaos Chapter: Fight Or Escape?
The album is available for pre-order starting on Monday, July 19. Fans can purchase it online through Weverse, Yes24, Aladdin, Interpark, Synnara, Music Korea, Apple Music, and Target.
MOAs, this comeback is going to be the best one yet!