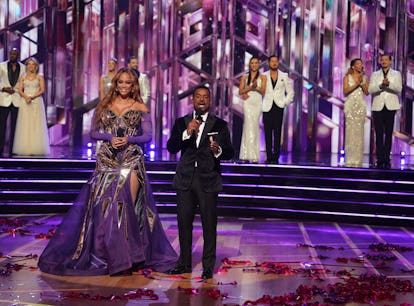 Twitter Is Pissed This DWTS Fan-Fave Didn't Win
"She ate this whole season."
ABC
Dancing With The Stars made its debut on Disney+ in 2022 for the first time since the show crossed the pond from the U.K. (There, it's known as Strictly Come Dancing.) The show did 30 seasons on the broadcast network ABC before the move and is the first major hit reality competition to move to streaming. Unfortunately, moving house doesn't mean fans are just going to be automatically happy with the show. These tweets and memes about Shangela's Dancing With The Stars loss prove people have major thoughts about the latest season's outcome.
Warning: Spoilers for Dancing With The Stars Season 31's finale follow. For the finale, four couples remained: Shangela and pro-partner Gleb Savchenko, Wayne Brady and pro-partner Witney Carson, Gabby Windey and pro-partner Valentin Chmerkovskiy, and Charli D'Amelio and pro-partner Mark Ballas.
Many viewers tuned in hoping to see Shangela, who became famous from RuPaul's Drag Race, take home the mirrorball trophy. Sadly, it was not to be. Instead, TikTok star Charli D'Amelio took home first prize.
Now, let's be clear: D'Amelio came out and tore it up week after week. But D'Amelio is also a professional dancer. She spent a decade doing competitive dance, and she became famous on social media for her dancing videos. Viewers were rightly cranky that a ringer was not only part of the cast, but also the chosen favorite to win since the season premiere, with no acknowledgment that she had a clear advantage.
It didn't help that Shangela's loss came right on the heels of one of the most iconic performances all season.
If you do that, and the voters send you home, there's something wrong — at least, that's what many viewers came to believe.
Even with the finale not turning out the way Shangela stans had hoped, fans were still choked up over how far she got and how much respect she'd gained.
Even though she didn't take home the mirrorball trophy, Shangela came on the show prepared to make history. On that metric, she won, hands down.
Ever the queen, Shangela went on Good Morning America the day after the finale, thanked everyone for voting, and talked about how this run on the show was a love letter to the LGBTQ+ community.
All episodes of Dancing With the Stars Season 31 are streaming on Disney+.