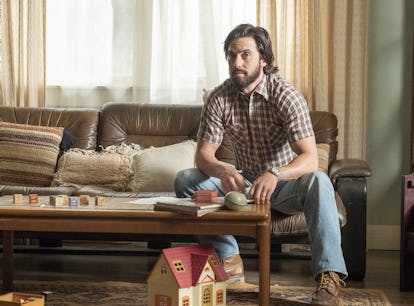 20 TV & Movie References This Is Us Has Made Over The Years
The Pearsons are *big* on pop culture references.
NBC
This Is Us is one of the most brilliant portraits of modern life on TV precisely because it doesn't shy away from TV. Most modern day-set series tend to keep their characters current with pop culture references, but rarely do they actually show their characters watching TV or sitting in movie theaters enjoying the latest box office smash. (It's just a little too meta, you watching them watching the screen.) But This Is Us' TV and movie references aren't just some of the smartest on TV today; they make the characters relatable. And most importantly, they tell the characters' stories through their media choices.
It helps that one of the characters is a successful actor in Hollywood, putting the show in direct contact with the small screen. (At least in the show's early going.) Characters, both major and minor, watch Kevin's sitcom The Manny as part of the show's plot point. But they also watch other things. For the flashbacks especially, these pop culture references function as anchors to how life was back in the day. This is true especially in the 1980s and '90s when the Big Three were younger and watching a lot of TV. But they also watch the same things audiences do in the present — proving they really are *us.*