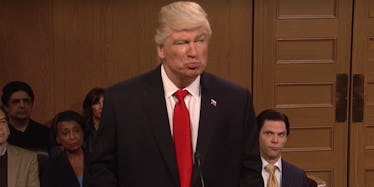 Trump Takes His Immigration Ban To 'The People's Court' On 'SNL'
YouTube
After a three-judge federal appeals court panel unanimously ruled against reinstating President Donald Trump's controversial Muslim ban, the 45th president of the United States lashed out on Twitter.
At this point, what else would you expect?! The fully capitalized tweet read,
See you in court, the security of our nation is at stake!
Here's the original tweet.
Instead of reevaluating the situation and taking Senator Chuck Schumer's advice to "abandon this proposal" and "come up with a real, bipartisan plan to keep us safe," Trump wants to take the battle back to the courtroom.
Oh, to be a fly on the wall during those court hearings!
Luckily for us, "Saturday Night Live" and Alec Baldwin decided to venture into "The People's Court" regarding the infamous travel ban, as Baldwin channeled his inner Trump before Judge Marilyn Milian, played by Cecily Strong.
The defendants? Trump's archenemy: the three-judge federal appeals court panel played by Kyle Mooney, Vanessa Bayer and Pete Davidson.
During the sketch, Baldwin's Trump squares off against a pack of "phony judges" who are "being very mean to him" as he battles for "broad, unchecked power."
The "phony judges," on the other hand, are attempting to put an end to President Trump's proposed travel ban once and for all.
They'll have to fight off accusations of their being responsible for "letting bad hombres pour into this country."
Perhaps one of the funniest parts is when Trump brings out his key witness.
Someone who's known me for years, he's family, he's an incredible person with impeccable credentials: Mr. Vladimir Putin.
Oddly, this doesn't sound like anything too far off from what Trump would actually say.
The hilarious sketch goes on to poke fun at the rumor President Trump doesn't even read the executive orders he signs before cameras surround him to snap photos as he holds up the documents.
Here's Alec Baldwin's most recent "SNL" sketch as Trump as he squares off against the 9th circuit court of appeals judges about the immigration ban.
Surprisingly, Trump has yet to tweet his thoughts on the most recent sketch poking fun at his entire existence. I think I have a pretty good idea of what he'd tweet if he did, though.
Sad!
Not only did Baldwin nail his impersonation of DJT once again, but he broke a record during the most recent episode of "SNL" when he hosted the show for the 17th time.
For someone who is completely obsessed with any and all numbers relating to TV, Trump should be proud of him!
If you haven't seen Kate McKinnon's latest impersonation as a psychotic Kellyanne Conway on "Saturday Night Live," you should definitely see it.
Citations: Watch Donald Trump Enter the People's Court on 'SNL' (Complex)