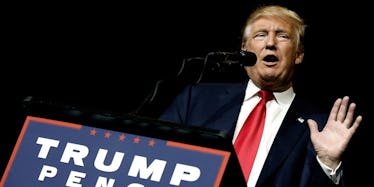 The Trailer For The Trump-Inspired 'Law & Order: SVU' Episode Is Finally Here
REUTER
Look, as much as we might hate to admit it, Donald Trump running for president has provided the entertainment industry with an endless supply of theater material.
While he's single-handedly ruffled the feathers of just about every sane American there is, I'm sure he's also inspired a few Hollywood producers and directors to craft TV shows and movies around his candidacy.
As a matter of fact, we don't have to guess. He certainly has inspired some in this way -- and this new "Law & Order: SVU" trailer for a new episode titled "Unstoppable" is proof.
Fresh off a slew of controversy surrounding his disrespectful remarks about women, it appears that October 26 will mark the day a new episode of "SVU" graces television screens everywhere and features a Donald Trump-like character.
NBC's Emmy award-winning crime drama series elected primetime Emmy nominee Gary Cole from HBO's "Veep" to play the role of a Trump-inspired character who calls himself "charming" and constantly alludes to his wealth.
Does any of that ring a bell? Let's be real, I think it rings like 50 different bells.
Perhaps the only difference between Cole's "SVU" character and Donald J. Trump is the fact that Cole's character calls himself a "millionaire" and Trump's word vomit constantly reminds the world that he's somehow a billionaire.
Everything else? Spot-on. Yes, even the controversy surrounding his relations with women is accurate.
Here's Gary Cole in-character.
The episode is said to be centered around a crumbling campaign deteriorating at the hands of women who have accused Cole's character of certain touchy subjects that have not yet been revealed.
In the new trailer for the episode, the Trump-inspired character says,
I'm a handsome, charming millionaire — women throw themselves at me. Know that I have nothing to hide.
Hmm, that sounds a lot like someone I know... well, not "know" personally, but it definitely sounds like the screaming Cheeto puff that pops up on my Twitter feed every three seconds!
The new episode of "Law & Order: SVU" is set to air on Wednesday, October 26 at 9 pm E/T on NBC. Pre-game with the trailer above!
Citations: Law & Order: SVU's Trailer for Donald Trump-Inspired Episode Is Here: 'I'm a Handsome, Charming Millionaire' (US Magazine)