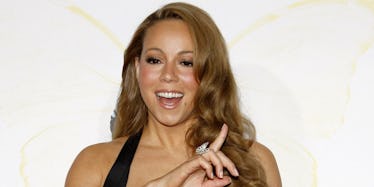 People Are Trolling Mariah Carey For 'Photoshopping' And They Need To Stop
Shutterstock
Mariah Carey may have photoshopped an Instagram photo, and for that she doesn't deserve happiness.
Most of us will never know the feeling of living under constant public scrutiny.
Even less of us will ever know the feeling of living under that scrutiny as a woman who, for the entirety of her quarter-century-long career, has been valued as much for her appearance as her talent.
But, by all means, speculate wildly about whether Mariah Carey photoshopped this photo of herself on the steps of a jet.
In case you're going blind, but making the most of your final days with the gift of sight, that photo is definitely altered.
Whether it's shopped to make Mariah look thinner I cannot officially say, but enough blurring and filtering has been done to make her appear superimposed on the steps of a plane she may very well have been exiting IRL.
There's a long-upheld demand of stars, primarily those who are women, to maintain an aesthetic standard the rest of us would likely never attempt to achieve.
Yet, when the pressure to keep up appearances leads women in Hollywood to adjust their own photos (you know, the same way their images have been adjusted for decades on magazine covers and photo spreads), the public feels betrayed, lied to and victimized.
None of this is new information. We understand celebrities' urge to present unattainable likenesses of themselves, yet when it happens, we attack them anyway.
Maybe we hate ourselves. Maybe it was a slow news week. Maybe we need to believe a perfect physical specimen exists and the idea of someone cheating that system is an affront to our sense of hope.
Let's spend some time, instead, focusing on our own shitty bodies. If we throw a little love and appreciation our own way and come to peace with the fact we'll never have a thigh gap or the perfect amount of butt fat, perhaps we'll go easier on the bodies of strangers and celebs.
Besides, we'll always have celebrity personalities and behavior to brutalize, and that's where all the fun is, anyway.
Citations: Mariah Carey accused of Photoshop trickery in private jet snap... as she arrives in London via helicopter Read more: http://www.dailymail.co.uk/tvshowbiz/article-3685454/Mariah-Carey-accused-Photoshop-trickery-latest-airport-snap-arrives-England-fianc-James-Packer.html#ixzz4ED7XxFNz Follow us: @MailOnline on Twitter | DailyMail on Facebook (Daily Mail)