Me & Karma Vibe Like That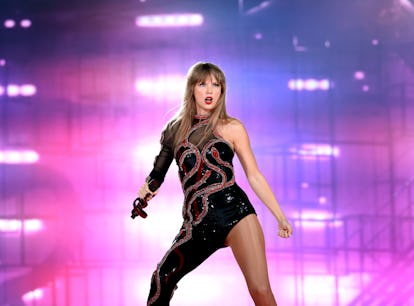 No, Travis Kelce's PR Rep Didn't Shade Taylor Swift On Instagram
It's not quite what Swifties think.
Since September, all eyes have been on Taylor Swift and Travis Kelce, and it's been no different for their inner circles. In the latest drama, fans thought Travis Kelce's publicist Pia Malihi shaded Swift on Instagram — a move that quickly went viral, thanks to Swifties' investigative skills.
It all started when Malihi re-posted a friend's birthday shoutout on Instagram on Oct. 29. In a screenshot of the IG Story, fans noticed that there was a clown emoji strategically placed over Swift's face. "Happy birthday to our Roman Empire," her friend wrote as a caption, alongside a confusing collection of pictures: four of the two friends together and one of a clown-ified Swift at Kelce's game. The Swift photo was actually a repost from Us Weekly, captioned, "This is our Roman Empire."
Swifties weren't happy and went directly to Kelce's comments section to slam Malihi's post. "Hey bestie… you might want to talk to your publicist about that post," one wrote to Kelce. Another wrote, "Your publicist needs a publicist." Plenty of others suggested Kelce fire Malihi over the incident. Meanwhile, Malihi put her profile on private.
But according to the original poster of the IG Story in question, the "bday clown" wasn't meant to be shady. Malihi's friend Amanda responded to the drama on Instagram, "It's me, hi. Was completely innocent to keep attention on Pia's bday. Wrong choice of bday clown emoji (by me, not Pia!). Nothing but love for Taylor!"
Meanwhile, celeb gossip account Deuxmoi defended the situation on Instagram: "The post was a repost. Pia did not put the clown emoji over TS's face. It was a birthday post that was reposted by accident by someone who works for Pia. All parties involved realize it was an accident. IDK why the clown emoji was used originally." She also seemed to defend Malihi on Twitter, writing, "Who gives a sh*t. I'm sure a Taylor has 100 other things to worry about."
ICYMI, Malihi has previously interacted with Deuxmoi on Instagram. Back in September, Malihi clarified a rumor about Swift bringing notes to a Chiefs game on Deuxmoi's post: "Not true … I'm TK's publicist and that's not hers," she wrote at the time, per Us Weekly.