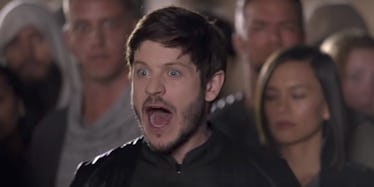 Trailer For Marvel's New Show 'Inhumans' Features This 'Game Of Thrones' Villain
Marvel
What do a lunar civilization, a giant teleporting dog, and a parade of the strangest wigs ever made all have in common? Well, you're about to find out.
Our first look at the newest Marvel TV show is finally here. The superhero franchise just dropped its first trailer for its upcoming show Inhumans, and it looks crazy intense.
In the clip, we meet the Inhuman Royal Family, the leaders of a civilization of superhumans. They are led by Black Bolt, a powerful king who can destroy things with his voice, so he remains silent nearly all of the time. He's played by Anson Mount, who is best known in my mind as Britney Spears' love interest in Crossroads.
But all is not well in the Inhumans family, as Black Bolt's brother Maximus leads an uprising to usurp the throne. If this "families feuding for power" stuff all sounds very Game of Thrones, that's because it is — Maximus is played by Iwan Rheon, best known for making GOT viewers everywhere wonder "Wow, maybe Joffrey wasn't that bad?" with his role as Ramsay Bolton.
Other main characters include Black Bolt's wife Medusa (Serinda Swan), his cousin Gorgon (Eme Ikwakor), his cousin Karnak (Ken Leung), and Medusa's sister Crystal (Isabelle Cornish)
But the real star of the trailer is the giant teleporting dog, because like... if there's a giant teleporting dog in something, of course that's going to be the star.
We get a glimpse at the CGI-created Lockjaw, Crystal's mammoth canine companion we see teleporting Black Bolt out of the lunar base during Maximus' uprising and onto Earth.
The series will follow the Inhuman Royal Family as they are exiled to Earth after Maximus' coup, as they attempt to save themselves and the world in Hawaii.
We also get a look at some of the family's superpowers in the clip. Though we don't see Crystal controlling the elements or Medusa controlling her hair, Gorgon shows off his ability to create seismic waves and  Black Bolt lets out a grunt that sends a police car flying.
Inhumans is getting a unique release for a television show. The eight-episode series will play on IMAX screens starting on September 1 before it premieres on ABC on September 29.
Check out the full first trailer below: