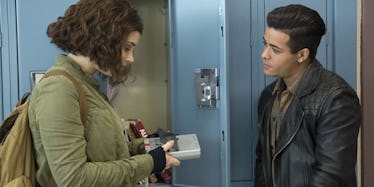 Tony From '13 Reasons Why' Sings An Original Song About Missing Hannah — VIDEO
Netflix
Unfortunately, there's not much for 13 Reasons Why fans to do right now aside from wait patiently for Season 2 of the Netflix hit to premiere next year, but one star did come through with a new original song for fans of the show.
Christian Navarro, who plays Tony Padilla on the show, wrote and performed a sweet song from Tony's perspective about missing his friend Hannah Baker.
In the series, Tony becomes Hannah's only confidant in the days surrounding her suicide, and she entrusts the tapes detailing her decision to him after she dies. Navarro's song provides 13 Reasons Why fans with a glimpse into Tony's mind as he continues to struggle with his close friend's suicide.
Check out Tony's song to Hannah, featuring Navarro and singer/songwriter Evangelia, below.
In case you wanted a closer look at the original song, I've transcribed the lyrics for you to go through below. The song starts off by listing off some of the characteristics Tony has become known for, such as his greaser look and obsession with cars and music.
Fast car and slicked-back hair Hundred miles going anywhere I know I'm different, that's what they say I'd give it all just to feel the same I was running now I'm drowning what's my f—ing name I've been dancing with the devil as the music's played But I can't hear the music 'til I see her face 'Til I see her face Hello again, my dear It's only been a year And I wish you were here Wish you were here
Towards the end of the song, we learn the lasting effect that Hannah's death has had on Tony. A year after her suicide, Tony is still completely broken up about it and wishes Hannah was back in his life.
And it sounds like this is only the start. Christian Navarro asked his followers is they want to "hear the rest," so keep checking his Instagram for new 13 Reasons Why-inspired tunes while you wait for Season 2.