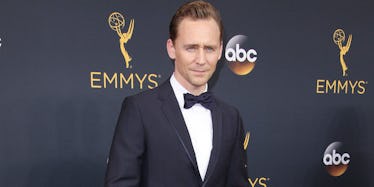 No Bad Blood Here: Tom Hiddleston Says He And Taylor Swift Are Still Friends
Rex/ Shutterstock
After Tom Hiddleston and Taylor Swift ended their three month fling, we were left with one question: do the ex-lovers hate each other?
This is important information because we have to mentally prepare for Swift's next breakup song.
Luckily, Tom Hiddleston revealed at the Emmys on Sunday night there's no bad blood between the two.
Even though the 35-year-old actor skipped the red carpet completely, People was able to ask him if he and his ex are still friends. He said,
Yes. Yes, we are.
Ah, a classic Hiddleston answer.
Short, sweet and not giving us the slightest clue about what the hell went on behind the closed doors of the ever-so-elusive Hiddleswift relationship.
It's hard to believe Taylor is going to feel the same way about Tom once she realizes everyone and their mother were making fun of her last night after not even showing up to the award show.
But, hey, it looks like she'll just need to shake it off, because Hiddleston is already moving on in a friendly direction.
No need to bash this one, Tay.
Citations: People