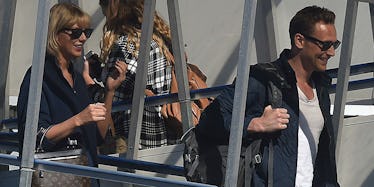 Tom Hiddleston Talked To A Reporter About Taylor Swift And It Got Super Awkward
REUTERS
I'm not gonna say the conspiracy about Taylor Swift and Tom Hiddleston is true. It would take a lot of evidence for me to accuse them of doing this all for show.
What I will say is this is what happens when you catch one of them by surprise. Or, in words that all the conspiracy theorists might understand, this is what happens when Hiddleswift isn't prepared to recite thoroughly rehearsed lines.
Tom Hiddleston being interviewed in the Gold Coast and was asked about Taylor Swift. His answers: "I don't know". pic.twitter.com/l3vBPXv9Hf — Pop Crave (@PopCrave) July 10, 2016
Yeah, that's Tom Hiddleston having a super awkward exchange with an Australian reporter who asked about Taylor Swift. He might as well have said "what girlfriend?" with the way he gave all the cynics even more reason to believe what they think is true.
Hiddleswift just can't seem to handle a moment that not's manufactured. It's either that or maybe no one enjoys a random lady invading his or her personal space to ask questions she was neither invited nor prompted to ask, particularly when you're just trying to enjoy a run like a normal human being.
Yup, definitely one of those things.
Citations: Tom Hiddleston Just Gave His First Interview About Taylor Swift and It's *So* Awkward (Cosmopolitan)