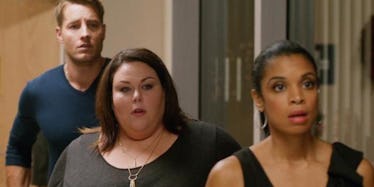 Here's What We Know About The 'This Is Us' Cliffhanger Before Tonight's Return
NBC
WHAT'S GONNA HAPPEN TO TOBY?
The winter finale of NBC's hit TV show "This Is Us" ended in December with a shocking cliffhanger, but thankfully the season resumes tonight.
In case you forgot what went down in the last episode, I'll give you the lowdown so we're all up to date.
BEWARE, THERE ARE SPOILERS FROM THE "LAST CHRISTMAS" EPISODE! If you just started watching and don't want to know how things end, I suggest you get the hell off this page right now.
For those who are still here, let's continue.
"This Is Us" concluded its final episode with a scene of Toby (Chris Sullivan) in surgery, fighting the battle of his life.
Kate's boyfriend (who she was on a break with at the time) decided to show up at her brother Randall's house in a Santa hat in order to win her back.
It was romantic and made me remember how single and alone I was during the holidays. Hahaha *sigh*
Every member of the family made it home for Christmas including Rebecca, Miguel, Kate, Kevin, Beth and Randall's father, William.
While the family gathered around the tree to open presents, Toby fell and collapsed on top of the coffee table.
Well, Chris Sullivan actually spoke with WTOP about his character's fate and it looks like fans can only cross their fingers at this point.
The actor explained,
We shall see what happens with the charming Toby. You will get answers one way or another as to the fate of Toby and Kate. It should be a very interesting episode.
There is hope, though, you guys! Chris added,
Somebody was joking online, it seems like a lot of bad things happen on Christmas Eve. I think the love and support of the family will pull them all through what was a rough place to leave things when we left for the holiday break.
Kate needs you, Toby! PLEASE COME BACK! Be sure to watch "This Is Us" tonight at 10 on NBC to see what goes down.
Citations: Toby Discusses 'This Is Us' Finale (WTOP)