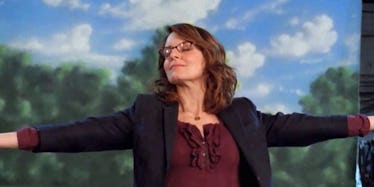 '30 Rock' Will Be On Hulu After Leaving Netflix And We're High-Fiving A Million Angels
NBC
Break out the celebratory night cheese, 30 Rock fans, because the zany sitcom will not be leaving streaming services after all! Following the scary news that 30 Rock would be taken off Netflix at the end of the month, Hulu has announced that it will be keeping Tina Fey's workplace comedy alive on its platform, according to Vulture. So when will 30 Rock hit Hulu? Thankfully, very soon, and it's coming with some other beloved NBC classics.
As fans are already well aware, earlier in September Netflix confirmed 30 Rock would be leaving its library on Oct. 1. It was a pretty devastating moment for comedy fans, who have been able to play their favorite episodes of 30 Rock at whim for years on Netflix. But now it turns out, the show will still be available for instant streaming online over at Netflix's biggest competitor, Hulu. And the best part of it all is you won't even have to go one day without 30 Rock — it will begin streaming on Hulu on Oct. 1, the exact date the show will no longer be available on Netflix. So the next time you are craving a Jenna Maroney fix or need to rewatch the world's most perfect reality TV spoof Queen of Jordan, just remember to log onto Hulu instead of Netflix.
30 Rock's move is a part of a major acquisition of NBC series by Hulu. The streaming service will also begin offering the hit family drama Parenthood, which is currently available on Netflix, sometime in early 2018. Hulu will also begin streaming SyFy's competition series Face Off and the UK reality show Made in Chelsea, along with premiering the upcoming Johnny Carson period comedy There's Johnny. Just a few days ago, Hulu added the entirety of NBC's hit sitcom Will & Grace to its library as well, ahead of the premiere of the show's new revival series.
But what does this NBC and Hulu deal mean for the other NBC shows still streaming on Netflix? Don't worry, Netflix users; Friends and Parks and Recreation are safe. A rep for Netflix confirmed to Polygon that the two other NBC hits currently available on Netflix, Friends and Parks and Recreation, aren't going anywhere.
Though Hulu is managing to save 30 Rock from streaming oblivion, there's no word on if it can do the same for One Tree Hill and Friday Night Lights. Both of those hit dramas are also scheduled to leave Netflix at the end of September, and they haven't been picked up by another streaming service yet. The prospects for Hulu picking up Friday Night Lights are much better, given that's another NBC series and could come in as part of the network's new deal with the streaming service. Sadly, since One Tree Hill is owned by Warner Bros., Hulu is less likely to save it after Netflix drops it. The best OTH fans can probably hope for is that the channel's streaming platform CW Seed to add the show.
The 30 Rock coup comes at a very interesting time in Netflix and Hulu's rivalry. Hulu surprisingly became the first streaming service to ever win the Emmy for Outstanding Drama with The Handmaid's Tale earlier this month, beating out Netflix in a category it's been vying for with a recent increase in original content. Though Netflix received nearly four times the Emmy nominations than Hulu (Netflix's 27 noms to Hulu's seven), Hulu still came out on top by taking home five awards, compared to Netflix's four. Later this year, Hulu is planning on stepping on Netflix's toes again by premiering its first original series from Marvel, Marvel's Runaways. Before now, Netflix had been the only streaming service to offer original Marvel programming (Daredevil, Jessica Jones, Luke Cage, Iron Fist, and The Defenders).
But more important than all that streaming service rivalry stuff — we can still watch 30 Rock whenever we want!