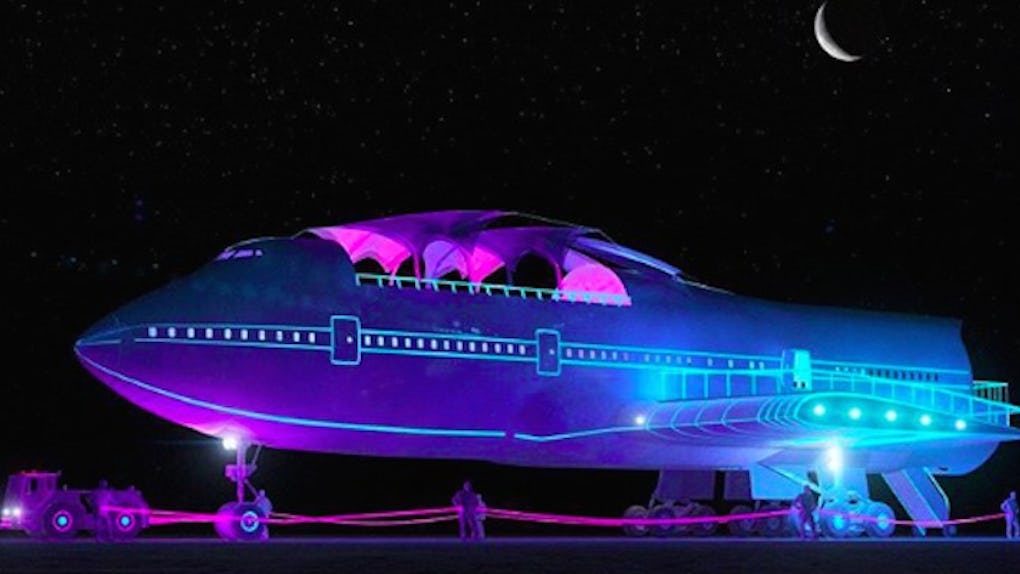 Instagram
There's A Massive Glowing Jet Chilling At Burning Man
If you're getting major FOMO vibes about not being at Burning Man, you'll have even more reason to be feeling that way now.
#SorryNotSorry, but you seriously HAVE to see what I'm talking about.
The epic festival, currently going down in Nevada's Black Rock Desert, started on August 28.
Tens of thousands of concert-goers vacate the hot desert dressed in crazy festival garb. And the art masterpieces are even hotter than the scorching sand surrounding them.
This magical event is certainly one of a kind. It's literally lighting up the desert in neon.
To make this affair even more elaborate, Business Insider reports that there's a ginormous jet chilling at Burning Man this year. Like, super casual.
Big Imagination Foundation apparently swagged up a Boeing 747 with lounges and vibrant lighting. The Foundation traveled more than 500 miles to bring the jet to the festival.
I'd say it was certainly well worth the trip.
The glowing jet will double as a sick venue for dance and art events throughout the festival.
This magnificent work of art is apparently considered the biggest "art car" in the history of Burning Man.
I'll just be over here hanging in NYC, living vicariously through all of these wild Instagram pictures wishing I was partying on this jet.
Citations: A glowing, gutted jumbo jet is roaming around Burning Man (Business Insider)