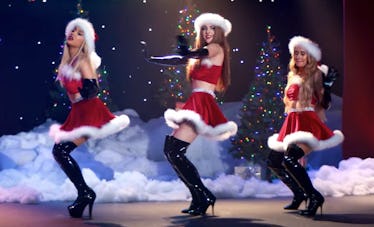 Fans Are Losing It Over The 'Victorious' Reunion In Ariana Grande's "Thank U, Next" Video
YouTube
Way back when, before Ariana Grande was the legendary pop star she is today, she starred in a little show called Victorious. And that show essentially made her famous. Of course, Grande was involved in all sorts projects before and after Victorious, but I think most fans would say that Victorious was where Grande first caught their attention. And now Grande is revisiting that chapter of her life in her music video for "Thank U, Next." The Victorious reunion in Ariana Grande's "Thank U, Next" video will definitely make you smile.
So, by now you probably know that Grande's video is all about paying tribute to the rom-com teen flicks of the early 2000s. And to do that, she brought a whole bunch of people from her inner circle on board. Those people included some of her Victorious co-stars and guess what — they play some pretty important roles in the video! So, which actors from Victorious are making cameos in "Thank U, Next"?
Well, first, there's Elizabeth Gillies who played Jade West on Victorious. Like Grande, she spent three years on the show and she's still pretty close to Grande to this day. And I guess that's why Grande cast her in the "Thank U, Next" video in a rather important role! Gillies plays her own version of Cady Heron from Mean Girls, a role that Lindsay Lohan originated in the 2004 film.
Grande even shared a glimpse of Gillies as Cady as well as all the others who were cast as "The Plastics" in her video. Check it out down below:
Gillies is obviously to the far left in the pink polo shirt. And she looks almost exactly like Lohan!
Gillies portrayed her role in the video pretty flawlessly, acting almost exactly how the character Cady Heron (played by Lindsay Lohan) behaved with Regina George in Mean Girls:
So, that's one part of the Victorious reunion that happened in "Thank U, Next." The other part of the reunion involved Matt Bennett, who played Robbie Shapiro on Victorious. In a sneak peek video for "Thank U, Next", Bennett was seen brushing his teeth alongside Grande as well as playing football.
In the actual video, Bennett played the character Cliff Pantone from Bring It On, and did so rather flawlessly:
Why don't you just do yourself a favor and watch the whole glorious video below, because you know you want (read: need) to:
Now that fans have seen the "Thank U, Next" video in its entirety and realized that it includes this epic Victorious reunion, they're going wild on social media. Here's what they're saying on Twitter right now:
Needless to say, the fans were treated to a really sweet reunion and a top-notch tribute to some of the most iconic films ever made. Ariana Grande, we are forever grateful for your INGENIOUS way of stitching together all of our absolute favorite movies together to make this video. Add in a spectacular cast with a ton of blast-from-the-past actors and actresses, and you've got yourself one legendary film.