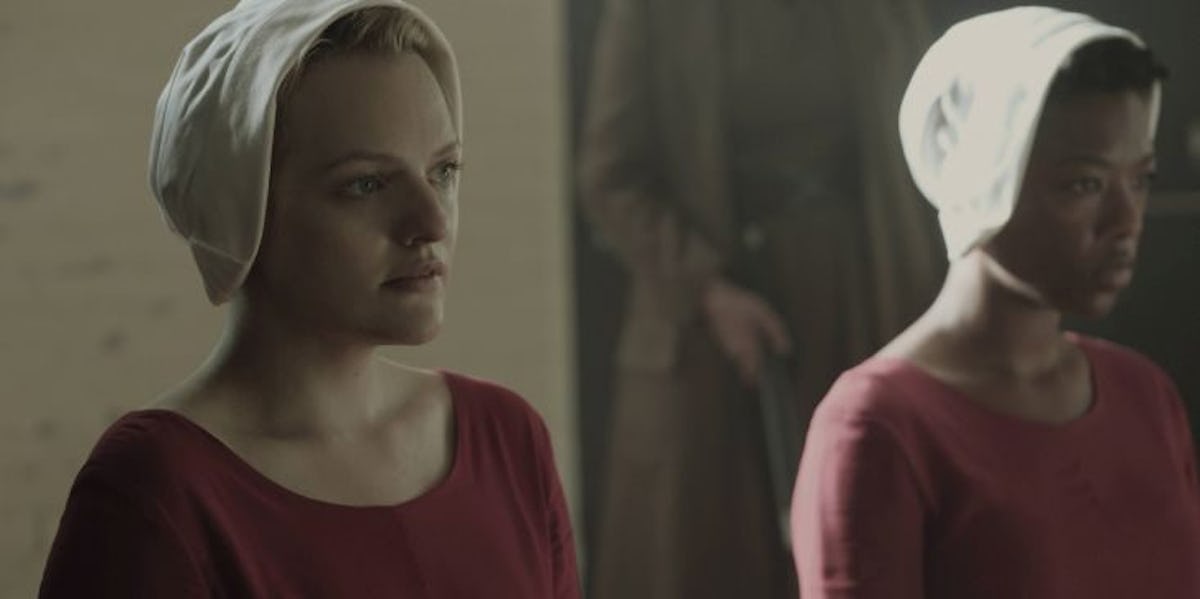 'The Handmaid's Tale' Is Getting More Feminist In Season 2 & That's A Good Thing
Hulu
Hulu's first major streaming hit The Handmaid's Tale is up for several Primetime Emmys this weekend. But while the cast is making the rounds reminding everyone how great their show is, back in the studio, the production is gearing up to film a second season. Having come to the end of the novel, fans are wondering where The Handmaid's Tale Season 2 is headed. According to actress Samira Wiley, who plays Moira, it's only going to get more feminist and in your face.
For those who need a quick recap, Moira has escaped her place in the world of Gilead. First she was a Handmaid, and then she was a Jezebel, and now Moira is a refugee in Canada, staying with June's former (and maybe still?) husband Luke. Meanwhile, Elisabeth Moss' main character, known as Offred (but who is really named June), was carted off at the end of Season 1 from her position as the breeder/reproductive slave for the family of Captain and Serena Waterford, despite being pregnant with their child.
Was she going to Mayday headquarters? Was she being carted out to the colonies? Was this a way to get her out to Canada, and escape to freedom, but leaving her daughter Hannah behind?
According to Wiley, now that we're out of the part of the story the book covered, the TV show is going to head to a place we've heard a lot about: the colonies, where they send women who cannot behave.
One of the things that we hear so much about in the first season that we don't see is the women who are sent to the colonies. We've heard of them, but what are they? For a person who's been classified as an 'unwoman,' what is their life like there? What do they look like? What's their day to day? So we're gonna really be able to see that.
That might explain how Alexis Bledel, who plays Ofsteven/Emily has been upped to a series regular. The last we saw her, she publicly killed a guard. Yes, she keeps getting reprieves because of her ability to bear children, but chances are, after that little stunt, she's spending time in the colonies as punishment.
Another interesting factor -- this second season won't be like the first one, because it's actually being written after the Trump Administration took power. One of the most amazing things about The Handmaid's Tale was how accidentally prescient it was. It was fully written, and filmed, prior to the 2016 election, when we all thought we were about to have our first woman president.
Instead, the show premiered during a time when America's millennial generation began to realize how reactionary a country this place still is. Now, Season 2 is being written with all that in mind -- that this isn't as much a dystopia as a thing that could really happen, if those like Pence and his creepy "mother" wife were allowed into power, especially if the Russian investigation really does come up with damning evidence against Trump.
In Wiley's estimation:
I think we've found this spot that people are responding to and it's not so overt that it's hitting people in the head, but it also is hitting people in the head. It feels so close to us, even if it's not, and I think that's been successful. I don't know if they want to push the envelope a little more or not, but I'm sure whatever they do is gonna be great.
The Handmaid's Tale Season 2 will be coming back to Hulu for a second season in the Spring of 2018. No premiere date is set yet, but it will most likely premiere with two or three episodes at once, and then run once a week like the first season did.