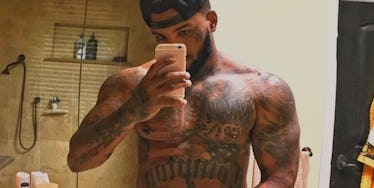 The Game Just Posted Another D*ck Pic With More Ridiculous Hashtags
At this point, The Game's penis should get its own Instagram.
Remember last week when our computers were assaulted by The Game's two-liter soda bottle of a schlong?
Well, both The Game and his Loch Ness Monster are back.
OK, hashtags. Let's cool it.
We get it: Your dong would probably cause a tsunami that would wipe out Okinawa if you dropped it into the Pacific Ocean, but you #don't #need #to #hashtag #every #thing #that #comes #to #your #mind #when #you #are #trying #to #make #SEO #friendly #content.
BTW, kudos on that bathroom. That looks like a nice bathroom.