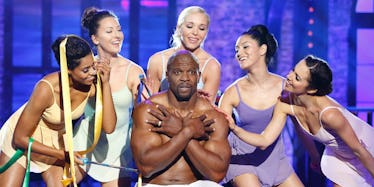 Terry Crews Lip Syncing His Famous 'White Chicks' Scene Is Everything (Video)
Spike's "Lip Sync Battle" keeps on chugging along, and we may have just been treated to the greatest battle yet.
It was one for the ages as Terry Crews faced off against Mike Tyson. Crews performed Vanessa Carlton's "A Thousand Miles" and Tyson mouthed along to Salt-N-Pepa's "Push it."
I won't give too much away, but I will say that a shirtless Terry Crews does some excellent ribbon twirling in this one.
That alone is worth the price of admission.
Tyson managed to hold his own as well. So make sure to check out the lip-sync battle up top.