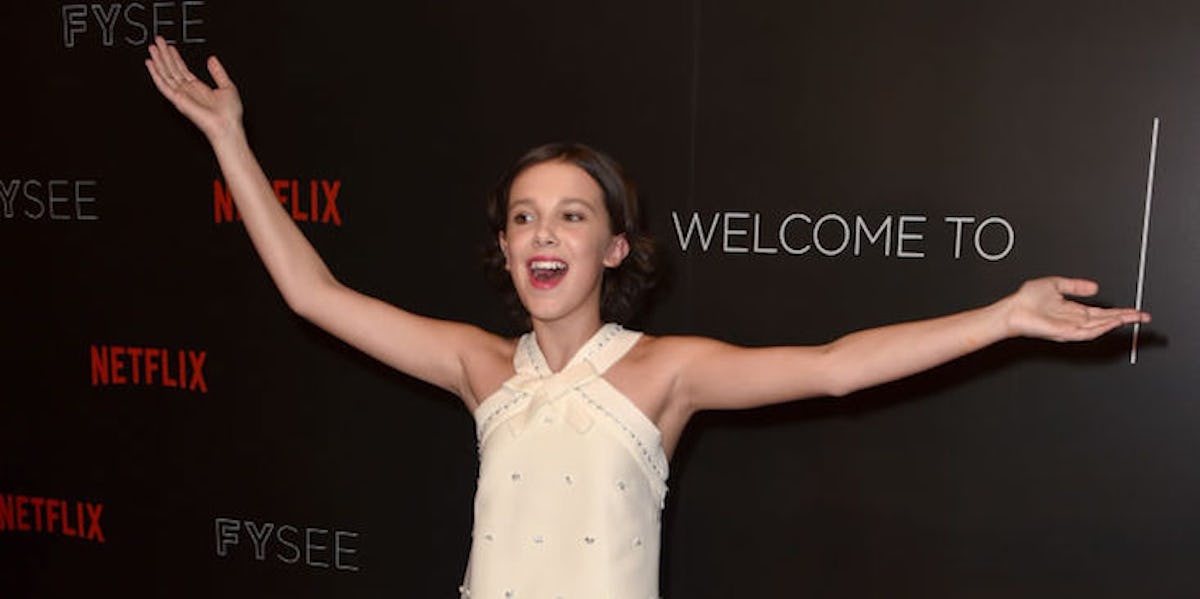 'Stranger Things' Millie Bobby Brown Was Nominated For Her First Emmy And We're Sobbing
Frazer Harrison/Getty Images
What were you guys doing when you were 13 years old?
Stranger Things' Millie Bobby Brown was just nominated for her first Emmy, so, she's clearly cooler than I ever was as a kid. (Which I guess isn't saying much, but I digress.)
The insanely talented young actress is nominated for Best Supporting Actress In a Drama for her role in Stranger Things, and we couldn't be happier for her!
This is only a huge deal, as she's up against literal legends like Uzo Aduba from Orange Is The New Black, Ann Dowd from The Handmaid's Tale, Chrissy Metz from This Is Us, Samira Wiley for The Handmaid's Tale, and Thandie Newton from Westworld.
No freaking pressure or anything.
Brown waltzed into all of our hearts as the emotionally deep (and somewhat spooky) character, Eleven, in the sci-fi horror series that follows young kids into an alternate dimension.
Stranger Things is exactly one tick above my threshold for scary stuff, but damn if I didn't watch the whole thing and have nightmares for a month anyway.
Fans love the series for endless amounts of reasons... including the incredible story, it's cinematic value, and the total spot-on portrayal of the 1980s.
Still, the absolute best part of the Netflix hit is the acting, hands down. And no, I don't mean Winona Ryder – though homegirl did amazing, too – I mean the kids.
The teen and tween actors are maybe the coolest group of people I know, and I'm dying to get into their posse. The emotional range and believability Brown and her colleagues brought to the screen are a triumph, and something I've never seen from actors so young.
The kids carry the entire series, and while the grown-up actors are top-notch, they are definitely a side dish to the epic acting buffet Brown and her young castmates brought to the table.
You can tune into the Emmys on Sunday, September 17, at 8 p.m. ET to catch Brown and all the nominees grace us with their glory.