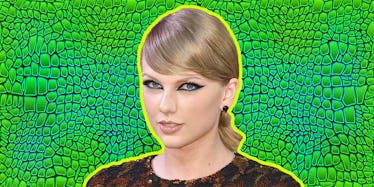 Kimye Fans Apparently Hacked Taylor Swift's Wiki Page Like Total Savages
REX/Shutterstock
Man, Taylor Swift is having a really rough week.
The 1989 singer is currently feuding with Kim Kardashian and Kanye West after the couple leaked footage of her approving the lyrics to "Famous."
Fans who are anti-Swift have already attacked Taylor on social media by posting snake emojis on her Instagram, but now it looks like Kimye supporters are taking things to the next level.
According to Refinery29, Taylor Swift's Wikipedia page was hacked by her haters.
Apparently Team Kimye fans edited her profile name to be Taylor "Slithering Snake Becky With The Good Lies" Alison Swift.
Ouch.
On top of that, the hackers changed her occupation to say "liar" and her "also known as" section to say "Regina George," "Victim" and "Nils Sjöberg."
DAMN, that's brutal.
It looks like her Wiki page has been edited back to normal, but fans were able to screenshot the damage before it was undone.
According to a few more tweets, it looks like Taylor Swift's profile was changed several times.
Seriously, WHO DID THIS?
Who did this?! @taylorswift13 wiki page.... #KimExposeTaylorparty #taylorswift pic.twitter.com/cALKmGqwOD — Melody (@melodymalcom) July 18, 2016
Yo Wiki, maybe you should have stricter security on who's allowed to edit these pages.
Things are about to get out of control. JUST SAYIN'!
Citations: Taylor Swift Wiki Page Edited (Refinery29)