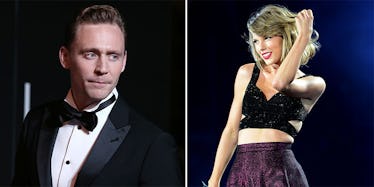 Taylor Swift Might Be Ruining Tom Hiddleston's Chance At Playing James Bond
REX/Shutterstock
Tom Hiddleston! Hi. We need to talk. From one Brit to another.
You've gotten so soppy with Taylor Swift that it's literally slashed the odds of you becoming the next James Bond.
I know in the past you've spoken openly about how you'd love the 007 role. And everyone was backing you. But you know what, after you were seen fangirling Tay with a gag-worthy vest over Independence Day weekend, we're not too sure anymore. Pull it together, man! Don't you think the UK has suffered enough embarrassment recently?
And let's not even talk about this scene:
*Massages temples*
Tom! The UK is collectively cringing for you, OK? Look, mate, we know she's Taylor Swift and she's all that, etc. etc., but just... NO. Take a look in the mirror, burn that vest and get your head in the game, man!
Betting firm Paddy Power has dropped you in the 007 role rankings below Aidan Turner and now new favorite James Norton. James Norton, Tom! I don't even know who that is.
I'm praying the theory about you and Taylor just making an elaborate music video is true. But in the meantime, for shame Tom. For shame.