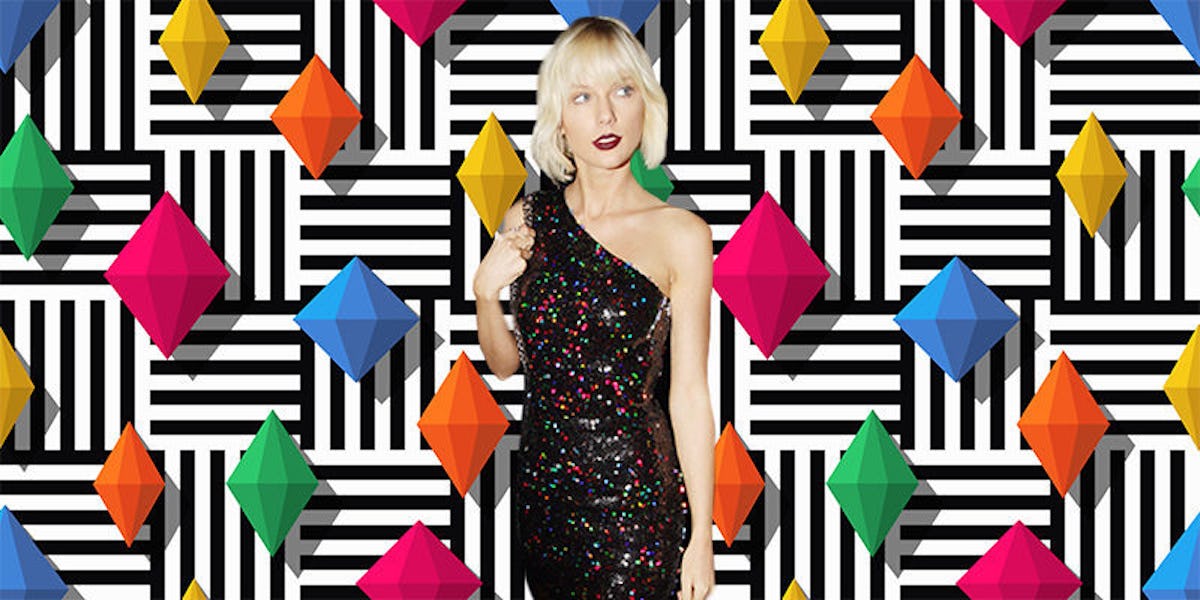 Taylor Swift Can't Pretend She's A Feminist Anymore, And Here's Why
REX/Shutterstock
Late last night, after the latest episode of "Keeping Up with the Kardashians" aired, the Internet broke.
No, Kim wasn't naked. Kanye hadn't gone on yet another Twitter rant. Kylie didn't admit that she's really a Stepford wife.
No, this time it broke because, for once, Kim put someone on blast and wasn't in the wrong.
The Kardashians are known for being involved in plenty of feuds. They're a big family, full of different personalities. They're strong in their beliefs, and their presence in the public eye opens them up to constant public battle.
But this time, the world was listening. We're certainly on their side, as Kim addressed the utter nonsense that Taylor Swift was in the dark about Kanye's now infamous song, "Famous," and its accompanying video.
The video shows that Taylor DID, in fact, have knowledge of the song, as Kanye played a part of it for her. Sure, it may not have included the part where he said "that bitch."
But she did, in fact, have knowledge of the song. And it was, in fact, recorded on video, as Kanye has footage of his entire recording process. But she claimed no such phone call ever occurred.
However, Kim would not relent. After Taylor's public remarks through her PR system and legal team – rather than from herself – Kim decided she would not stand for this tearing down of her husband. After the episode aired, Kim took to her Snapchat to show the video of the call.
Seriously, Taylor: This woman once hacked into her ex-husband's voicemail. Did you really think she wasn't going to provide the receipts for this one?
Cue the internet absolutely exploding.
It was a sight to see all the absolute gems that flooded Twitter last night. You were constantly refreshing to see how people were reacting. People who had work in the morning forfeited their sleep in order to favorite and retweet the best reactions on their timeline and fully discuss what the real story was.
Sure, you can look at the whole situation and see that Swift manipulated the media for as long as she could. She tried to get them to think she's this wholesome girl who just wants to bake cookies and live her private life.
You can see that she calls the paparazzi to alert them about where she is when she senses a shit storm coming her way. Sorry, but the paps just don't hang out in Rhode Island unless you tell them you're there. You see that one can only keep up a charade for so long before the cracks start to show.
But my favorite conversation of the night went to her bullshit use of feminism. This is mostly because her version of feminism is absolute garbage.
It's exclusive. It's only used when she can use it to her advantage, and there are so many times this Regina George has proven that she is, in fact, the exact opposite of a feminist. Here are four times this has been true:
1. Her Squad
Everyone knows about her squad. She's basically the reason we even talk about squads. I am frankly so tired of even hearing the word.
And while her squad itself is a who's who of the entertainment and modeling industry, exclusive of outsiders entirely, they're also all under the same guise of elitist feminism. It doesn't actually work.
They don't fight for equality among women because they don't need to. They're all extremely beautiful, wealthy women who can sit here and say, "Yeah, we support other women." But in reality, they're just supporting each other.
But what's that going to do for the movement forward in creating a better world for young girls? Right: It doesn't. It just perpetuates the idea of mean girl cliques that won't include you if you're not on the same level as them in every way.
2. The Golden Globes Debacle
Back when those goddesses Tina Fey and Amy Poehler first hosted the Golden Globes, Taylor was nominated for best original song for "Safe & Sound" from "The Hunger Games" soundtrack. It was evident even then that Taylor had a penchant for writing songs about basically anyone who had come into her life.
Tina and Amy made a harmless joke about how she needed to stay away from Michael J. Fox's son and have some "me time." When the camera cut to her, she was less than enthusiastic, even though this was halfway through the show. The duo had already gone for the heavy hitters of Hollywood, who had laughed them off. Because they were telling jokes.
Cut to a few months later. Taylor gave an interview in Vanity Fair, and discussed how "There's a special place in hell for women who tear down other women."
Excuse me? I'm sorry. Do you not know who you're talking about?
These are two women who have stuck together through bad haircuts, being broke, making it to "Saturday Night Live" and being where they are now. They've done nothing BUT support one another and the women around them, and have taken great strides when it comes to women taking on boss roles that were initially generally given to men. Tina and Amy fight for women's equality every day in their industries, and in everyday life as well. Tina's speech on rape was great.
3. "Bad Blood"
Tell me again how Amy and Tina tore you down with a joke when you wrote an entire song about tearing another woman down.
Regardless of whether this song is about Katy Perry or someone else, the fact of the matter is, she wrote it. It deliberately assassinates someone else's character. You don't get to scream "feminism" when you wrote this kind of song.
Not only does the song entirely take out any accountability that she might have had – something we could have all understood, since a catalyst for a song like this could not have been one-sided – but it also tears down another woman. This misses the entire point of building other women up.
Also, Taylor, you write songs about every single male who has come into your life. You have built a career based on narratives that they absolutely did not want to be a part of.
So, you don't get to cite that here, girl. If you drag others into narratives they don't want to be a part of, then you can't use that line for yourself. Or do you not think about that when the direct deposit hits?
4. "Famous"
I will not listen to Taylor's ignorant rhetoric when it comes to her citing feminism in this situation. It's a cop out, and it's not applicable to this, in my opinion.
When she accepted her award at the Grammys after learning about the song, she called out Kanye without even saying his name, thereby making the situation all about her. It suddenly turned into her being attacked: as she always is.
Forget accountability. That's not her game. Her game is to always be the victim.
If she were a feminist, she would have either not released multiple statements at all, or she would have thought twice about the statement where she said that she "understood Kim was just doing what her husband has told her to do," with regard to Kim's comments in the GQ piece. This statement was both undercutting and unnecessary.
But then again, she was dumb enough to show that she had to search for last night's post in her notes, thereby exposing that she had it written for a while.
When it comes down to it, the exclusivity of Taylor's feminism is a slap in the face to those who are actually working hard to create equality between the sexes. She uses her platform to perpetuate false ideas, instead of focusing on real issues such as the wage gap, opportunities in the workplace or how women are represented.
It's not right for her to hide behind this mask of her version of feminism, and this was hands down the second best part of reading the Internet last night. (Sorry, but the reactions were just so entertaining.)
If you want to be a feminist and fight for both equality and a better future for the women who pad your bank account, that's great. But don't use it as a shield when you're finally caught.