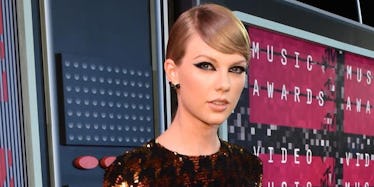 Taylor Swift Gave Young Fan With Cancer The 'Best Christmas Present Ever' (Photos)
Getty Images
Taylor Swift is a celebrity, musician, singer, icon and artist. She's also 13-year-old Delaney Clements' "idol."
Delaney was diagnosed with neuroblastoma when she was just 7 years old.
She noticed her hip was sore and swollen, and a visit to the surgeon revealed she had Stage 4 cancer.
Unfortunately, after several years of treatment, Delaney's cancer has not gotten any better.
Earlier this month, Wendy Campbell, Delaney's mother, shared on Facebook that her daughter's cancer had spread to her brain, and she would soon enter hospice care.
She wrote the family's goal was to "keep Delaney as comfortable as possible and keep her spirits uplifted."
But Delaney's loved ones also wanted her to meet Taylor Swift. Through #TaylorMeetDelaney and #DelaneyMeetTaylor, the wish came true.
The pop star went out to Colorado today and was able to spend time with Delaney and her family.
Taylor posted several sweet pictures to her Instagram of her visit with Delaney.
Delaney's caption reads, "Literally speechless right now!!!!! My new best friend... made a special stop... and surprised me and gave me the best present/ hugg ever!!"
If you can, donate to Delaney's charity, Delany Donates, which "supports local families who have been impacted by one of the many forms of cancers among children and adults."
So this just happened. Thank you Taylor Swift for the best Christmas present ever. #TaylorMeetDelaney Posted by Wendy Campbell on Saturday, December 19, 2015
Citations: Young cancer patient meets Taylor Swift (9News)