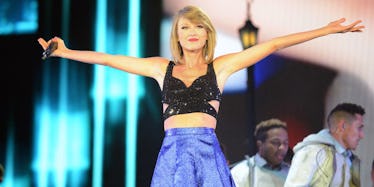 Taylor Swift Singing Karaoke Will Take You Back To The '90s
REX/Shutterstock
I AM STARTING A PETITION RIGHT NOW TO HAVE BRITNEY SPEARS BECOME THE "HOUSE MOM" OF TAYLOR SWIFT'S SQUAD.
Taylor Swift's Fourth of July was a lot cooler than your Fourth of July. It's OK! There is nothing to be ashamed of! She's the most famous person in the world (sans Barack Obama) and you're someone who probably is still paying off student debt and ate pasta salad from Duane Reade for dinner last night.
Yup, you and Taylor Swift have very little in common, except for one thing: karaoke.
You both attack the mic with passion and focus while on that noble quest to take someone else's song and make it your own. Loving karaoke is the great global equalizer and reminds us all we're human.
There is a strong chance Taylor may have gotten caught flexin' the ol' pipes to some vintage Britney Spears over Independence Day weekend if you can believe this series of Snapchats.
Did Ed Sheeran get in on this?
Another clip of Taylor and Ed singing 'Hit me Baby one more Time' by Britney Spears! pic.twitter.com/ExQ0BiNKBB — Taylor Swift Updates (@TSwiftPR) July 5, 2016
ENJOY THIS FREE MINI-CONCERT!
Britney needs to become the lead momma of Taylor's squad ASAP.
Citations: Swoki Karaoke (Lainey Gossip)