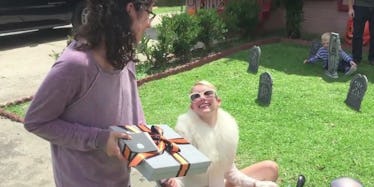 'Scream Queens' Made A Parody Of Taylor Swift, And It's Everything (Video)
In the time since its premiere, "Scream Queens" drew not just an audience of expected Ryan Murphy fans but a new crowd of "Glee"-haters pleasantly surprised by the show's mix of sharp humor and abundant horror.
A new Halloween promo for the show is a precious gift for steadfast basic bitches and newbie fans alike. The promo parodies a personal vid created by the queen of the basics, Taylor Swift.
Last Christmas, Swift posted a vid of herself celebrating "Swiftmas." She stalked fans on social media and sent boxes of personalized gifts and cards to their homes.
At one point in the heartwarming montage, Swift even makes a home visit to meet one fan's young son and rides alongside him in a toy car. Oh, Taylor!
The "Scream Queens" promo parodies the "Swiftmas" video in a hilarious and precise way, changing the protagonist to "SQ" HBIC Chanel Oberlin, played by Emma Roberts, and the holiday to "Chanel-O-Ween."
Fans tearfully tear open gifts containing severed heads, razor apples and cards from Chanel.
Before unwrapping a cadaver's foot, one follower reads from a handwritten card,
I can't wait to see you in person, but before that, I'd like to see you post this all over social media to exploit it for my own gain. Happy Chanel-O-Ween!
Chanel also makes a home visit to "someplace horrible" to surprise a fan who, lo and behold, also owns a battery-operated toy car.
The sight of Chanel sliding a gift over the threshold of the fan's home to avoid entering the premise will send a chill down every viewer's spine just in time to fully enjoy the Halloween season.
The promo precedes three "Scream Queens" Halloween episodes set to begin Tuesday at 9 pm on FOX.
Citations: Oh. Dear. God. This Taylor Swift-Inspired Scream Queens Video Just Made Us Laugh So Hard We Cried (E!)