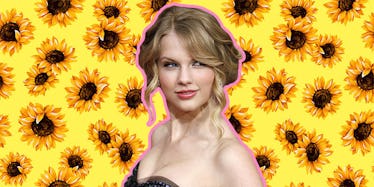 Taylor Swift Fans Are All Commenting The Same Thing On Her Old Music Videos
REX/Shutterstock
Fans are missing the old T-Swift, the straight from the farm T-Swift.
Longtime Taylor Swift fans are so over this new version of Tay who lies on national TV and gets in fights with Kim Kardashian and Kanye West on Twitter.
Why can't we just go back to simpler times, when Taylor was just a country girl who wore sneakers and hated those girls who wore short shorts? Now SHE'S the one wearing short shorts! HOW DARE YOU, TAYLOR?!
Can't we go back before squads and Instagram and copyrighted lyrics and, most importantly, before any Kimye drama?
Well, as The Hairpin discovered, this is all Swifties want, and they are expressing their desire in the YouTube comments of old Taylor Swift videos.
Here's a fan who was feeling nostalgic for the old Tay on the video for "Teardrops On My Guitar."
This person doesn't even care the song was from 2007.
This person seems to equate Taylor's departure from country music to the decline of the entire music genre.
And this person seems totally unaware Taylor Swift had any sort of career after that song.
The comments on "Love Story" are a similar tune.
No, it's not just you, Kewl Bananaz.
Some people are really getting emotional over the death of the old Taylor.
RIP, old Taylor. But as Kylah Johnson says, it's time to move on, my friends.
And hey who knows, maybe country Taylor will come back someday! Anything for good PR, right Tay?
Citations: Swifties Are Flooding Her Old Music Videos with Comments About How Much They Miss the "Old Taylor" (Cosmopolitan)