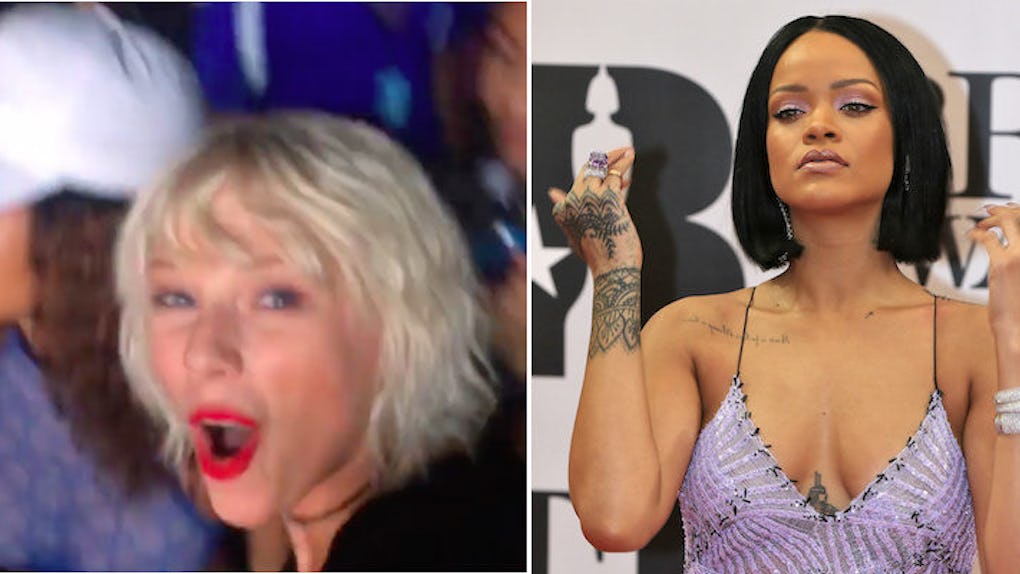 Instagram Paul Hackett/Reuters
Taylor Swift Lost It When Rihanna Performed With Calvin Harris At Coachella
Just like most white girls, Taylor Swift lost her sh*t at Coachella this weekend.
Rihanna surprised audiences at the California music festival on Sunday night when she dropped in for a quick performance during Calvin Harris' set. She sang "We Found Love," which she released with Calvin back in 2011, and it nearly killed Taylor Swift.
For real, the festival has been over for like 10 hours now, but I assume Taylor is still in the middle of Indio just spinning with her cell phone and shrieking.
She captioned the Instagram post with a simple,
I'll NEVER forget this moment.
I'm sure you won't Taylor, but hey, can we talk about your subtle new look for a second? Because I'm pretty sure you're slowly morphing into Tilda Swinton, and I'm LOVING IT.
If a generation of Swifties started wearing "Snowpiercer" cosplay to look like Taylor, I'd be ecstatic.
Please keep this up.
Wait, actually. Have you ever seen Taylor Swift and Tilda Swinton together in the same room??!??!?!?! Me neither!!!!
HOLLYWOOD CONSPIRACY THEORY! Tilda Swinton is Taylor Swift.
*Mind Blown*