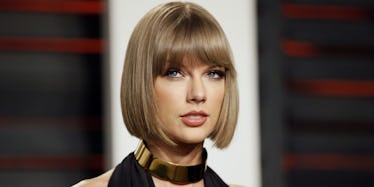 Taylor Swift Opens Up About Calvin Harris And The Possibility Of Marriage
REUTERS/Danny Moloshok
If you were wondering how your girl Taylor Swift and your girl's man Calvin Harris are doing relationship-wise, don't worry. Apparently, the magic is still alive.
For the cover story of the May issue of Vogue, Taylor Swift sat down for an interview on the same day she was a maid of honor in her longtime friend Britany Maack's wedding.
When asked about her own plans for marriage, Taylor told Vogue she's taking things slow, but things with Calvin are good — better than good.
She said,
I'm just taking things as they come. I'm in a magical relationship right now. And of course I want it to be ours, and low-key... This is the one thing that's been mine about my personal life.
Back in her hometown of Reading, Pennsylvania, and causing a stir among the locals, the international pop star reminisced about a time when her current life was all just a dream.
Taylor said she's not sure what's next in life for her, but it will definitely involve music -- eventually. First, she wants to learn some little skills, like how to make mixed drinks and perform CPR.
She said she wanted "to be able to save somebody if they're drowning." Can you imagine being saved from the water by Taylor freakin' Swift?
Be sure to check out the full interview on Vogue, and just try to imagine attending a wedding with a maid of honor speech given by Taylor Swift.
Citations: Taylor Swift As You've Never Seen Her Before (Vogue)