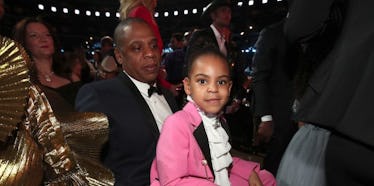 You Can Finally Stream The Whole '4:44' Bonus Track Featuring Blue Ivy's Rap
Christopher Polk/Getty Images for NARA
We are all children of a digital age, and as such, who even buys CDs anymore? No one, that's who (OK, there are a few people out there who like to have "a collection" and whatnot). But for most of us, we store our music digitally, on computers, phones, or digital players, with nary a hard copy to be seen.
That's why it was so devastating to find out that the bonus tracks from JAY-Z's recent album 4:44, including one on which Blue Ivy Carter freestyle raps, would only be available on the physical CD.
Except, nope! While we were all busy calling our moms to find out if she still has our old stereo in storage, JAY-Z gave us a wink, and released three of the bonus tracks on his streaming platform, Tidal, early on Saturday morning.
Yesssssss.
The three songs, "Adnis," "Blue's Freestyle/We Family," and "MaNyfaCedGod," were released on Saturday, July 29 at (of course) 4:44 a.m. You still have to have a Tidal subscription to hear more than a 30-second clip, but hey, it's a start.
By far the most anticipated song was the one featuring the eldest Carter child, 5-year-old Blue Ivy.
On the track "Blue's Freestyle/We Family," she sings,
Never seen a ceiling in my whole life/Boom shakalaka, boom shakalaka/everything in shaka, everything in faka.
No, I don't know what it all means either, but who cares? I'm still super impressed. It's a 5-year-old freestyle rapping, and it's better than anything I could pull off. That's called "talent," friends.
Blue Ivy isn't the only talent to be featured.
Another song, "MaNyfaCedGod," features Knowles-Carter family collaborator James Blake, who also appeared on "Forward," off Beyoncé's 2016 album, Lemonade.
Maybe it's too early to look down the road, but considering the presence that little Blue already has in her parents' art, what are the chances we're going to get some Rumi and Sir cameos down the road? Big Sis can show them how it's done.