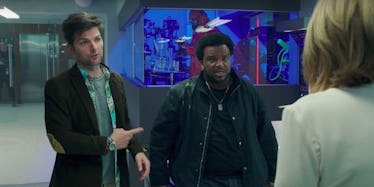 Here's The New Fall Show To Watch If You Love 'Stranger Things' And 'The Office'
FOX
Take the sci-fi elements of Stranger Things, mash them up with some of your favorite Parks and Rec and The Office actors, and you've got one of the most talked-about shows coming to FOX this fall: Ghosted.
Ghosted executive producers and stars Craig Robinson and Adam Scott play Leroy and Max. Leroy is a former LAPD detective and Max is a former astrophysicist (whose wife was apparently abducted by aliens — he was literally ghosted). The pair is recruited by a secret agency to investigate "unexplained" activity in LA.
During roundtable interviews at San Diego Comic Con, Robinson and Scott explained how they got involved with the making of the action-comedy series, saying,
CR: [Executive Producer] Tom Gormican wrote a treatment, we have the same agency, so it got passed to me. He wrote it and it had some specific things in there, like 'badass black dude with a badass afro' and I was like 'yeah,' and then it was also hilarious. And we took it to Adam and then Adam looked at it and thought... AS: Yes. CR: And with us two and with the paranormal angle in there, with the friendship and the heart in there, I thought if we could pull this off, it could be something special.
Something all fans of The Office and Parks and Recreation are wondering is how this show, with it's sci-fi element, would compare to those beloved comedies. Adam Scott put it best, saying,
We've kind of been saying, like, the quick way of describing it is -- best case scenario -- Stranger Things and Midnight Run have a baby, and that's Ghosted. And for me, that baby would be my favorite baby.
The show's cast also includes Ally Walker (Sons of Anarchy) and Adeel Akhtar (The Dictator, Four Lions). Ghosted premieres on October 1 on FOX.