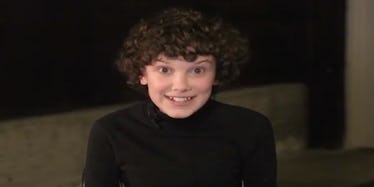 Eleven No Longer Has A Shaved Head In Latest 'Stranger Things' Photo Shoot
Entertainment Weekly/ YouTube
Besides a depressing loss, and an incredible comeback, this past weekend's Super Bowl LI brought us a brand new trailer for the Netflix series Stranger Things.
The trailer was about 30 seconds of screaming, heavy breathing, blood and eerie music, all of which only gave the world a glimpse of what's most likely to come this Halloween.
However, on the cover of this week's edition of Entertainment Weekly, the child stars can be seen striking a pose in their "Stranger Things" garb – with one entirely new detail.
The show's breakout star Millie Bobby Brown, aka Eleven, ditched the blonde wig for some curly locks, and fans are going wild.
Gearing up for season two, all we know about Eleven is she's a timid, yet powerful, little girl whose entire past is cloaked in mystery – with a little government experimenting on the side.
When Mike, Dustin and Lucas first found Eleven she was rocking a shaved head...
...and Millie Bobby Brown actually did (?!) shave her head, making the public love her even more when she shared the experience on Instagram.
But in order to preserve her identity, the characters on the show decided to give her a super-fake-looking blonde wig.
So why change Eleven's hairstyle between seasons?
Fans think the change is some sort of homage to badass female icon Ellen Ripley, played by Sigourney Weaver in the "Alien" film series.
And since the show is known to draw inspiration from a certain era of television and film, it wouldn't be shocking to find out this fan theory is real.
Either way, people are going to have to remain speculating for the next eight months because the show is not due to return to Netflix until Halloween, and the showrunners are going to keep any plot details under lock and key.
Ugh.
Citations: Stranger Things season 2: Who's in danger? Who's new? The plot revealed! (Entertainment Weekly)