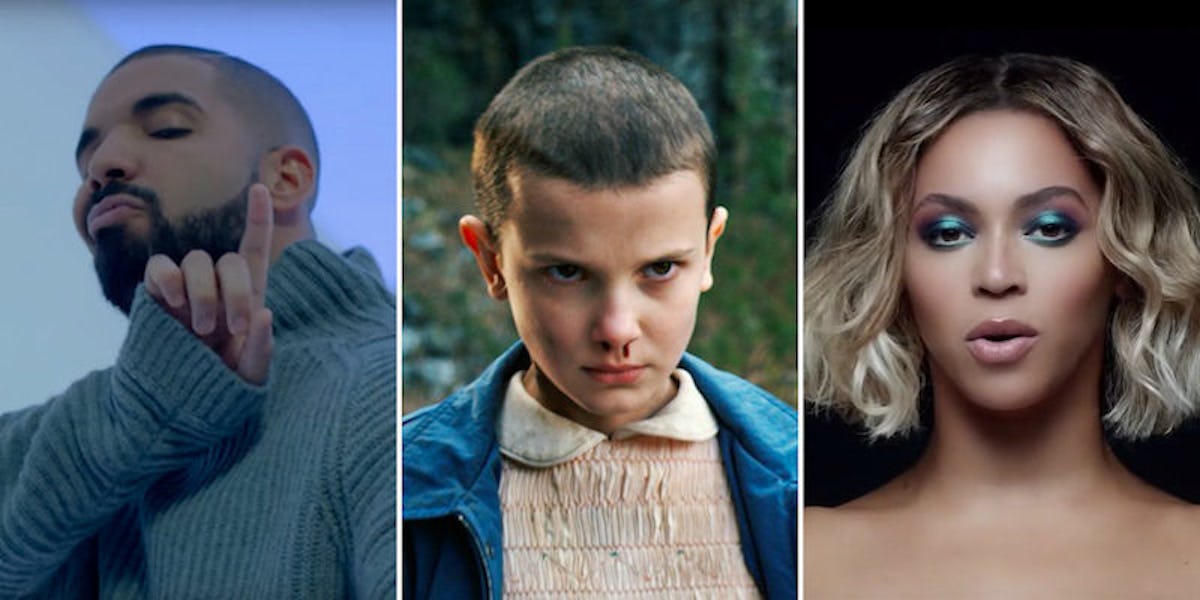 Some Genius Mashed Up Drake And Beyoncé With The 'Stranger Things' Theme
YouTube/Netflix
Do you ever listen to the spooky tones of the theme song for "Stranger Things" and think to yourself, "Hey, you know what this track needs to make it pure fire? Some Beyoncé and Drake vocals... that's what!"
If you'd haven't thought about this at all, we're done here, you and I. Go on... get! Scram!
However, if you want to hear the combination of these two musical universes you don't need a powerful transistor radio like our heroes use in "Stranger Things."
That's because Twitter's own Nathan Zed has provided us with the mashup we all want, right here in our own dimension.
I got an exam tomorrow and I spent my afternoon mashing up songs with the Stranger Things theme pic.twitter.com/hry7b2arrp — Nathan Zed (@NathanZed) September 20, 2016
In the video above, Nathan has intercut the Netflix show's intro theme song with vocals by musical artists such as Kanye West, Drizzy, Queen B and Desiigner.
Oh, and there's one mashup that uses a clip of Donald Trump giving a speech. Eh, I say the less exposure that guy has the better, no?
He's basically the Demogorgon, IMHO.
What am I saying? Trump's clearly a Hawkins Lab member. HOW COULD I BE SO FOOLISH IN MY COMPARISONS?
Trump would probably be like, "We are gonna build a wall between us and the Upside Down. They're bringing over their monsters, their slugs. And guess what? We're going to make the Demogorgons pay for it."
Speaking of the glorious intersection of "Stranger Things" and Beyoncé, Millie Bobby Brown recently shared a few videos on Instagram of her having her head shaved for the part of Eleven set to Bey's "Pretty Hurts."
I just wish Eleven could play all these mashups over a loudspeaker. I mean, I don't want her to get a nosebleed or anything, but I've got to admit it would be nice.
Citations: Someone Made a Mashup of Beyoncé and the Stranger Things Theme Song and It's Actually Brilliant (E! News)