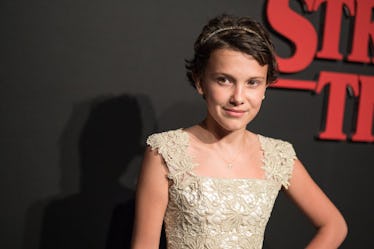 Eleven From 'Stranger Things' Shares The Video Of Her Shaving Her Head
REX
"Stranger Things" has become so much a part of the zeitgeist that I now live by the motto (and meme), "In a world full of tens, be an Eleven."
That, and I also eat a lot of chocolate pudding in honor of the man -- nay, the legend -- Dustin.
Well, Millie Bobby Brown became Eleven through an epic transformation. She had her head shaved for the role, and initially was pretty apprehensive.
I mean who wouldn't be? I get nervous before every haircut. Maybe it's because I watch "Sweeney Todd" before every time I go?
Despite some pre-buzz nerves, all it took to get Millie excited for the trim was showing her how badass Charlize Theron looked as Imperator Furiosa in "Fury Road."
I mean, I'd remove all my hair for the opportunity to flip a car with my mind, and I don't mean the act of buying a vehicle and selling it for a profit.
Anyway, a couple days ago, Millie contemplated sharing the world her buzzcut video, something I imagined would be locked away in a vault in Hawkins Laboratory.
Oh dang! I can't tell what's a bigger tease... this Instagram post, or Chief Jim Hopper dropping off those Eggo waffles in the middle of the woods.
Well, you can now officially watch Millie's metamorphosis, as the 12-year-old actress posted a video on Twitter getting her locks chopped off to Beyoncé's "Pretty Hurts."
Ugh, my soul needs surgery because this video is killing me with all the feels!
But wait, there's more! Millie posted a second video of the transformation and it's just as inspiring.
Can this please be the official music video for Bey's song?
I wouldn't be surprised if this 'do becomes extremely popular. Will you trim your hair for Eleven?
Citations: Here's Another Reason To Love Eleven From 'Stranger Things' (Huffington Post), WATCH MELLIE BOBBY BROWN SHAVE HER HEAD FOR STRANGER THINGS (Nerdist)